Dan and I are both incredibly busy this semester. For example: I got home tonight around 8 PM after spending the weekend competing in a mock trial competition. Luckily for me, this weekend's competition was in DC—meaning I got home at the civilized 8 o'clock, rather than the more typical midnight. I spent the rest of the evening working on schoolwork, which has to get done tonight because I will be at work from 9-4:30 tomorrow and in class starting at 5. You can bet I relished the extra hour of daylight-savings sleep I got last night!
And really, my schedule looks downright leisurely when compared to Dan's. Dan currently spends a good part of his time working to end genocide and mass atrocities at STAND, the student led division of United to End Genocide. Both organizations do a lot of good, and are really worth checking out if you're unfamiliar with them. As fantastic as Dan's work with STAND is, it's also particularly time consuming. He spends a fair amount of time taking the message on the road, traveling to conferences and meetings around the country.
Practically speaking this means two things. First, between my mock trial schedule and his STAND activities, we are rarely in the same city at the same time on the weekends. And secondly, I eat a lot of pasta.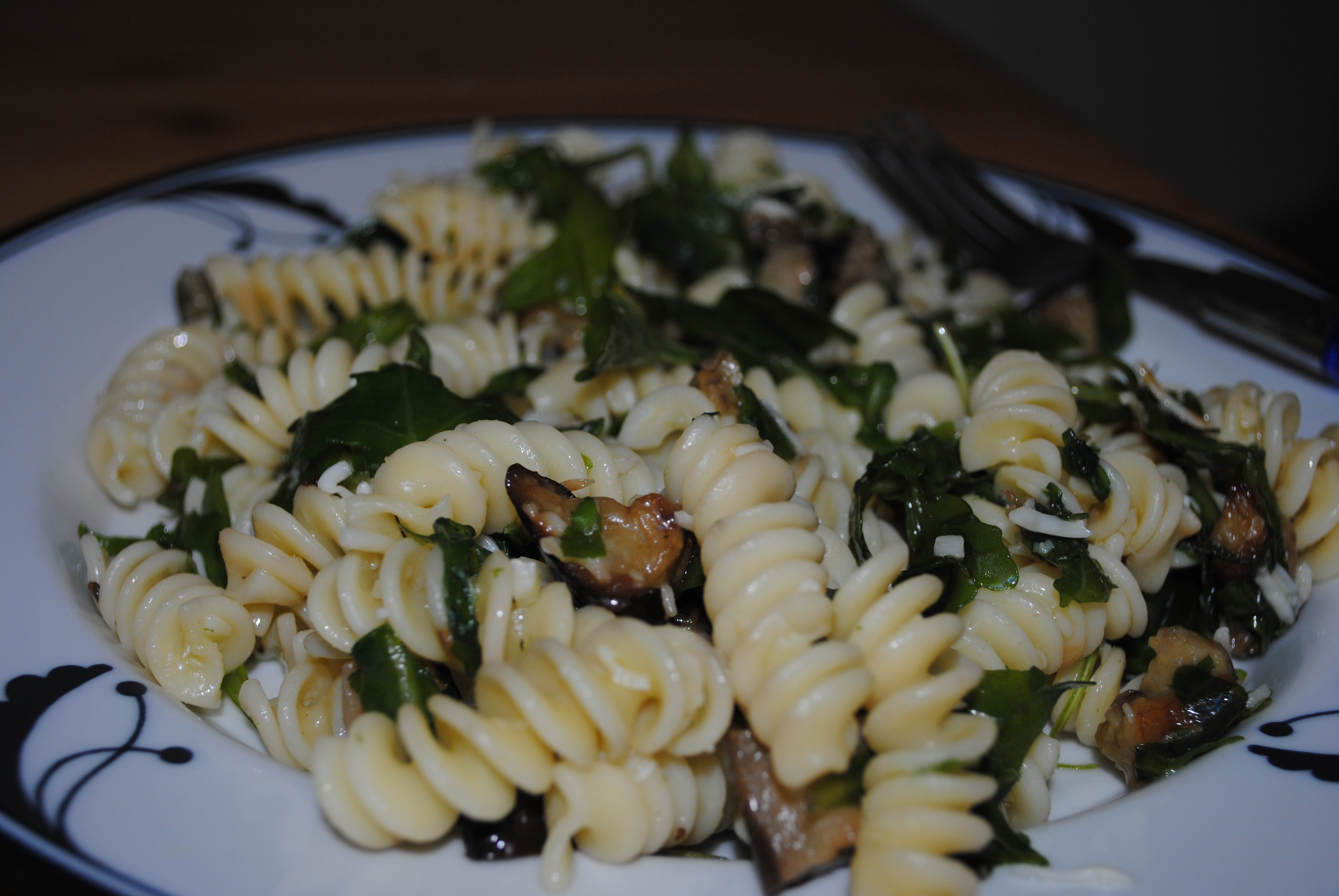 When Dan was first diagnosed, I thought that my days of eating big bowls of pasta for dinner were largely behind me. Instead, I've discovered that carb-heavy meals are one of the hidden advantages of our conflicting schedules this semester (right up there with Doctor Who marathons and sleeping in until noon). Pasta is undeniably a comfort food: easy to prepare, soothingly warm, and (at least when I make it), full of garlic.
This recipe is my best approximation of the positively addictive Fusilli Pasta Salad at Fairway. The big meaty taste here comes from the eggplant, making it a great vegetarian option (if you omit the Parmesan, it could also make a fairly tasty vegan meal). One of the interesting things about this dish is that it absolutely tastes better the day after it is made. Sitting overnight in the fridge gives the flavors a change to blend in a way that a quick stir around a bowl just can't accomplish.
Ingredients—Serves 8 (or 4 over 2 days)
1 box dry fusilli pasta—340 g
1 large(ish) eggplant—26.6 g
4-10 cloves garlic
4 cups baby arugula, washed and dried
3/4 cup grated Parmesan
Olive oil
Salt & Pepper
1. Preheat oven to 350 degrees. Cut the eggplant into 1/2-inch to 1-inch cubes. To do this, begin by slicing the eggplant into 1/2 inch slices. Then cut each slice into a rectangle.
2. Place all eggplant cubes in a large bowl, and drizzle a heavy drizzle of olive oil over them. They taste best when they've had a chance to absorb some sincere amount of oil. Sprinkle with salt and pepper, and mix with your hands to make sure every piece is properly oiled, salted and peppered. Eggplant soaks up oil like a sponge, so move pretty quickly here.
3. Spread the cut eggplant out on a parchment paper- or aluminum foil-lined baking sheet (this isn't necessary necessary, but it will save you a headache when washing the baking sheet later). Put the eggplant in the oven, and set your timer for ten minutes.
4. Meanwhile, bring a large pot of salted water to a boil on the back burner of your stove. Ignore it until it reaches a rolling boil.
5. While you're waiting for the water to boil, chop your 4-10 garlic cloves. Last time I made this recipe, I used five large garlic cloves and found myself really missing a stronger garlic flavor. Let your own taste be the judge here—if you're the kind of person who hates bad breath more than you love garlic, take it easy with the garlic.
6. Heat a tablespoon of oil in a small sauté pan over medium heat. Add the garlic, and sauté until softened, about a minute or two. Set aside.
7. When the eggplant timer goes off, check the eggplant. Pull the baking sheet out of the oven. Use a spatula to scrape any stuck pieces of eggplant up, and flip all of the pieces over. Then put the eggplant back in the oven with the baking sheet facing the opposite direction (rotate it 180 degrees from the position you took it out in). Set your timer for five minutes more.
8. When the pasta water comes to a boil, pour the full box of pasta in the water and stir. Cook according to package instructions. When the pasta is done cooking, drain it, rinse it in cool water, and set it aside in a large bowl. Pour a heavy glug of olive oil over the pasta, and stir it to prevent it from becoming sticky.
9. Add the 4 cups of washed arugula, the sautéed garlic and 3/4 cup of grated Parmesan to the pasta. Stir to combine.
10. Check the eggplant again when the timer goes off. It may still need another five to ten minutes. The eggplant is ready when it has darkened and softened. At that point, remove the eggplant from the oven and add it to the pasta mixture, stirring to combine.
11. Taste the pasta and season it with salt and pepper, if needed. For the tastiest result, let the pasta sit in the fridge overnight, and eat it for lunch or dinner the following day.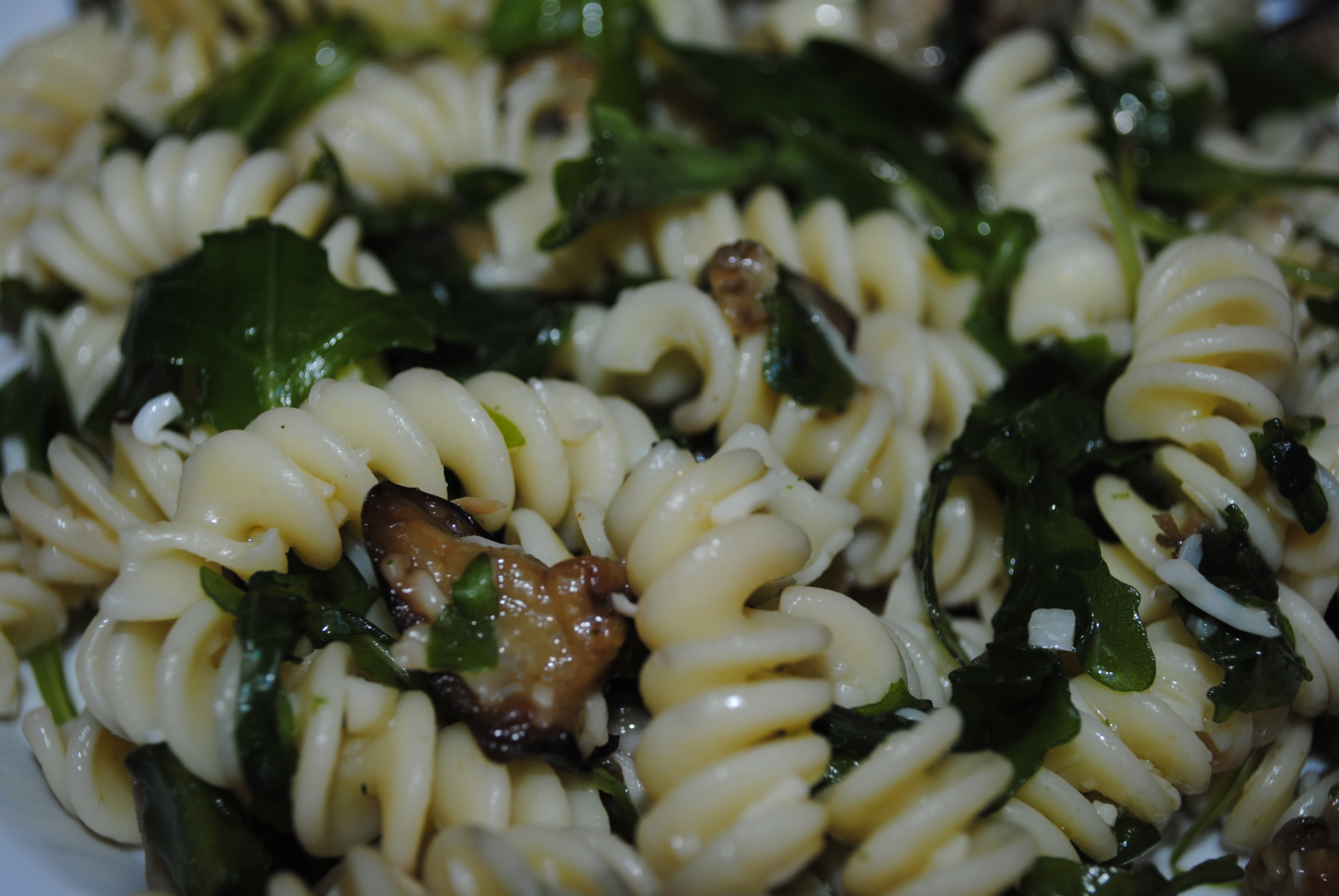 Total Carbs: 367
Carbs Per Serving: 46