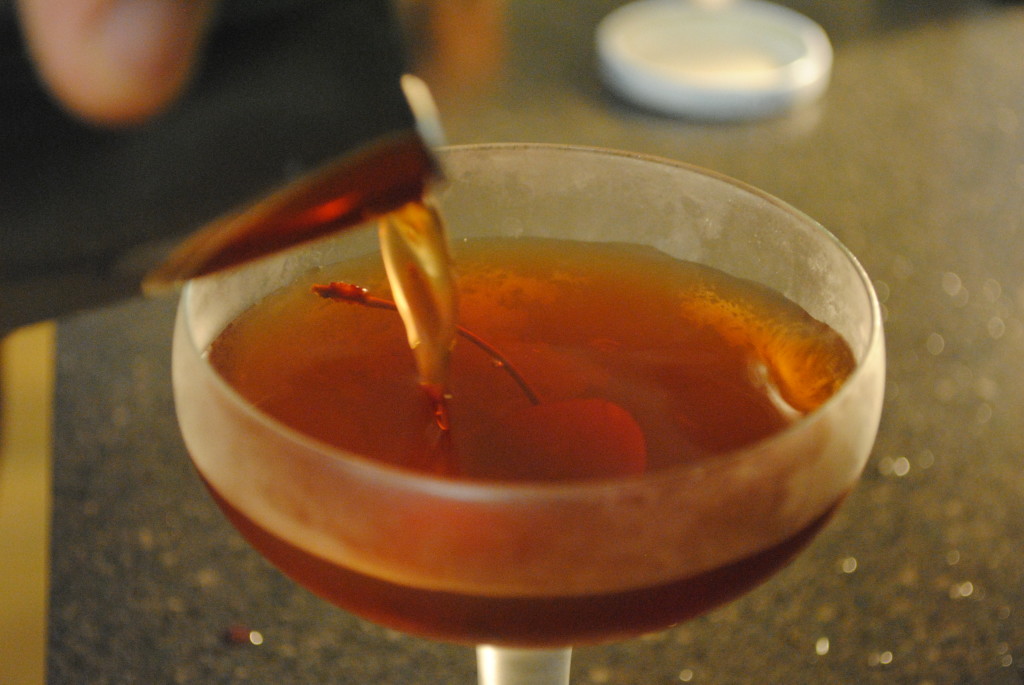 I would apologize for having missed the three greatest days of Cocktail Week, but I just can't bring myself to feel too bad about it.
About a month ago, my sister was accepted into Georgetown's School of Nursing & Health Studies. At 18, she already knows how she's going to make her corner of the world a safer place. I've got a romantic vision of my time-travelling alter ego tending soldiers on the edges of Waterloo or the Somme, but let's be honest – I turn ashen at the sight of blood. Last night I took a quarter-inch strip of skin off my pointer finger in a tragic brownie accident (for an absurd accident, there was quite a bit of blood) and had to lie down for a good ten minutes, slowly sipping a big glass of orange juice. Truly, I'd make a dismal doctor.
But Alice, she's got it. Of course, she's good with the science – ever since she was a little girl, just two huge blue eyes and a mess of blonde hair, she's leaned in to science. Lincoln logs, K'nex, The Way Things Work – these puzzles were her Narnia. But more than just the skill, she's got a genuine kindness. When she sees someone who could use her help, it would be anathema for her to turn away. I can think of few people who better encompass the ideal of cura personalis than my sister.
Dan and I spent this past weekend with my family. They'd come to town so Alice could look at Georgetown up close, as her future home instead of a place Dan and I love. Otto Porter didn't personally request the pleasure of Allie's company at Georgetown, but apparently the visit was satisfactory in all other regards. We are so pleased to welcome Georgetown's newest Hoya, Alice Anne, this coming August!
So, in the midst of the celebratory sazaracs, I fell behind on cocktail week. To make up for it, here's Dan making a Manhattan.
________________
Friday (let's pretend): The Manhattan 
"Learn to make a proper Manhattan and you will know how to create at least one flawless thing in this world, and the person you're making it for will know, and respect that about you."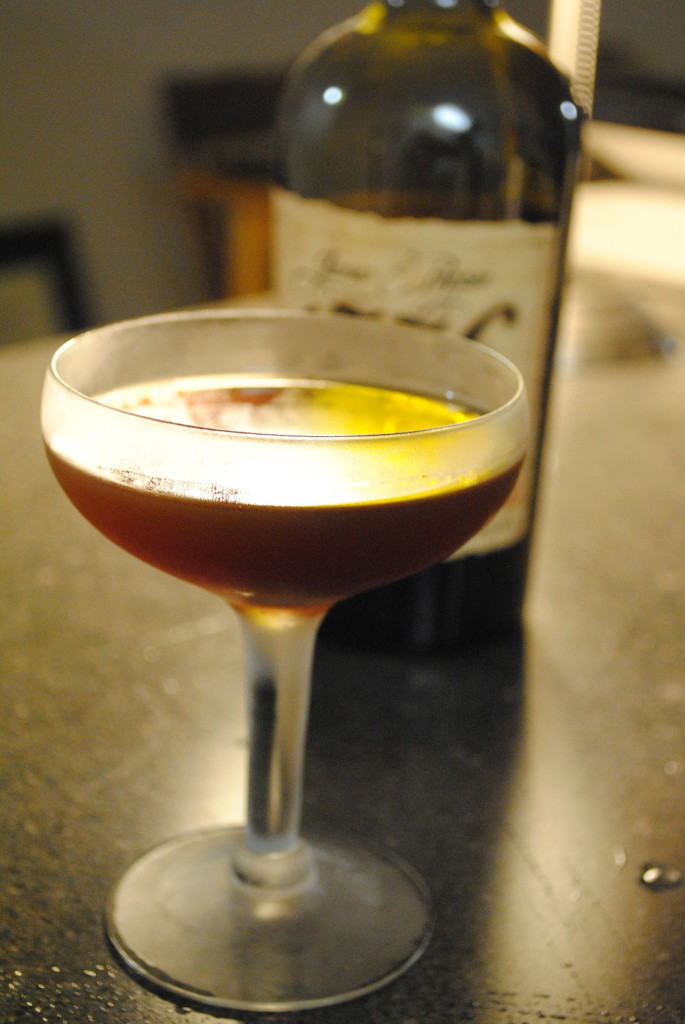 Ingredients – Makes 1
2 ou. Rye Whisky
1 ou. Sweet vermouth
Angostura bitters
Maraschino cherry
1. Put that cocktail glass in the freezer. Set the timer. At least 15 minutes.
2. Crack about four ice cubes with the back of a bar spoon into a cocktail shaker.
3. Pour 2 ou. Rye whisky and 1 ou. sweet vermouth over the cracked ice.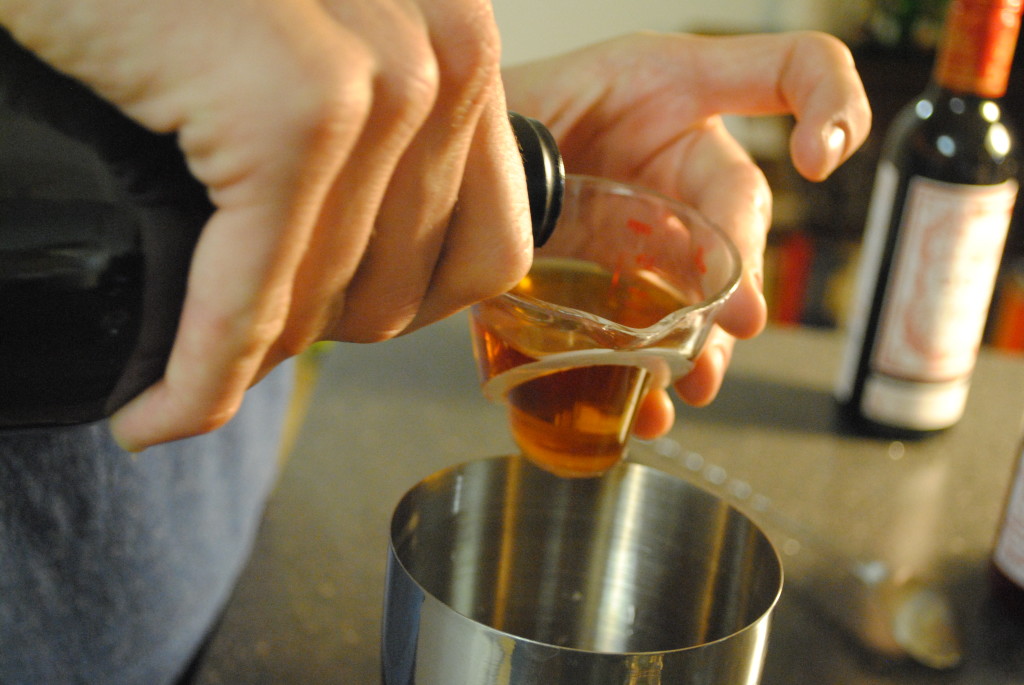 4. Shake in anywhere from 2-6 dashes of Angostura bitters into the drink. Dan says to stop when you can smell the bitters. Stir for a while, thoroughly.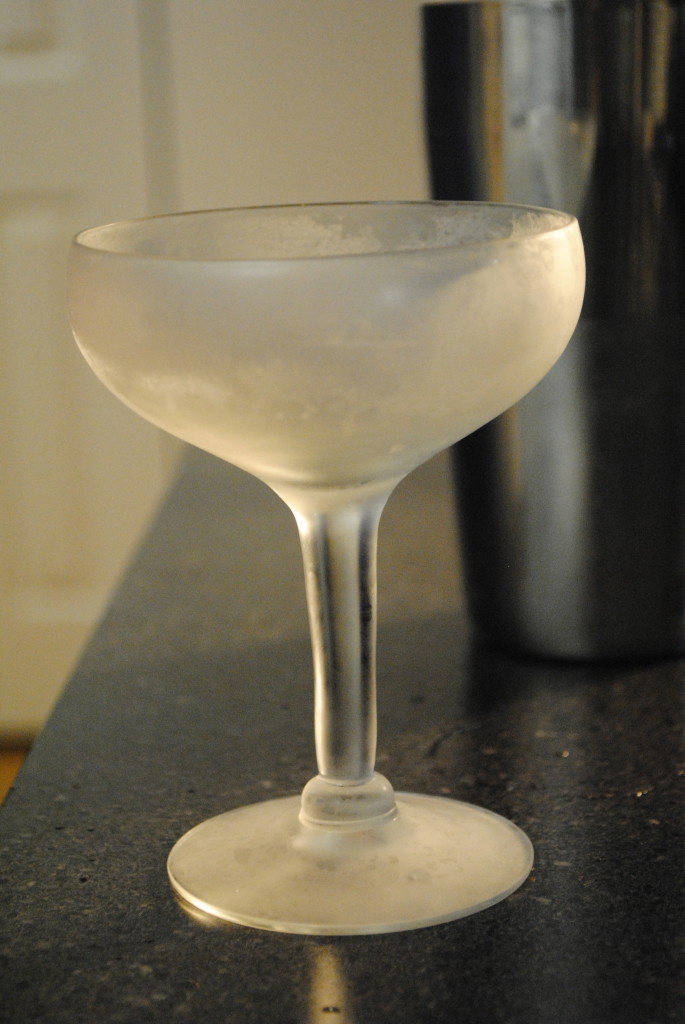 5. Strain into the cold, cold glass and garnish with the cherry.