2012 is off to a tragic start. This has nothing to do with many important factors like: Hoya Basketball (we beat Providence, 49-40), the state of Derek Jeter and Minka Kelly's relationship (rumor has it they're back together!), or my New Year's Eve (lobster, oysters, and a damn fine grechetto chardonnay blend). All of these factors, would, in fact, point to a wonderful 2012. I spent last night toasting in the New Year with a flask of whiskey (Irish) and beautiful fireworks. I was feeling so good about 2012.
But it turns out this new year had me fooled. This morning, I checked the website of Fleisher's Organic and Grass Fed Meats to see their holiday hours, and my entire winter break fell to pieces.  Fleisher's is closed until January 10th for training and renovations. I can understand that training and renovations are important in running a business. Still, I don't think the ladies and gentlemen of Fleisher's properly considered the implications of closing for a full nine days on my winter holiday. Until discovering this upsetting news, I had been planning a wonderful meat-filled last-week of winter break. Sausages, meatloaf, pork belly, lamb. Bone marrow, bacon, rotisserie chicken drumsticks you can gnaw on while walking down the street. Handsome gentlemen butchers. A beautiful old-fashioned storefront. If you like meat, Fleisher's is a little piece of heaven.
As I think that last paragraph makes clear, I am really really really not a vegetarian. For all of my interest in fine food, I truly believe that there is no better meal than a gin martini followed by a fine steak. Nonetheless, I recognize that there is something seriously wrong with our country's food production system—and in particular with our meat-production system. There are many reasons for this, but (as I will happily lecture anyone on when I am in my cups, as my mother's grandmother would have said) one of the most important reasons is that our cattle are fed on corn. Corn-fed cattle are less healthy and less happy than grass-fed cattle, and this may have serious implications for the people who eat corn-fed cattle. Fleisher's sells grass-fed meats from local farmers using snout to tail butchering practices. The meat is slightly more expensive, but that extra two dollars a meal goes towards supporting craftsmanship butchery and sustainable farming practices.
This week's recipe is inspired by the lovely staff of Fleisher's, who pointed me towards their pork cutlets (a cut of meat they don't always have) on Wednesday and suggested pork roulade for dinner. Also, the food blog kitchenista. Man oh man, was it delicious.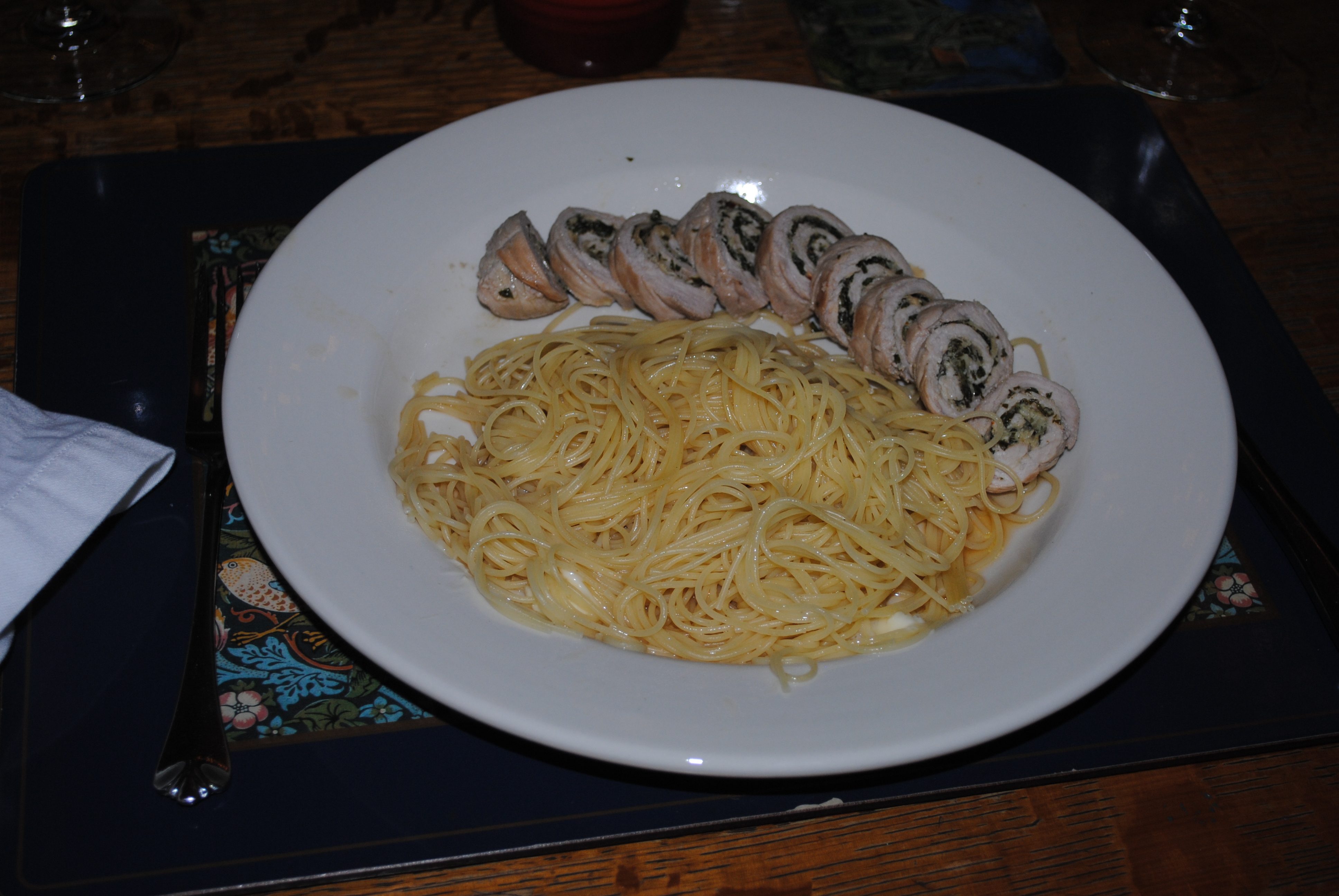 Ingredients—Serves 3
3 pork cutlets, about 1/4 inch thick
1/2 bunch parsley, chopped
1 head of garlic, roasted
1/2 tablespoon red pepper flakes
Juice of 1/2 lemons
Olive oil
1/4 cup white wine
6 ounces of angel hair pasta
1. Salt pasta water and bring to a boil over high heat. Once it comes to a boil, turn the heat down and let it simmer until you're ready for it.
2. Roast your garlic. If you are lucky enough to have an adorable small pot the perfect size for a head of garlic, place the garlic in the pot and drizzle with olive oil. Cover, and roast in the oven at 350 degrees for about an hour. The garlic is done when it is soft and beginning to brown. If you don't have an adorable little pot, just wrap it up in aluminum foil. While the garlic is roasting, go read the fantastic new blog Securing Rights.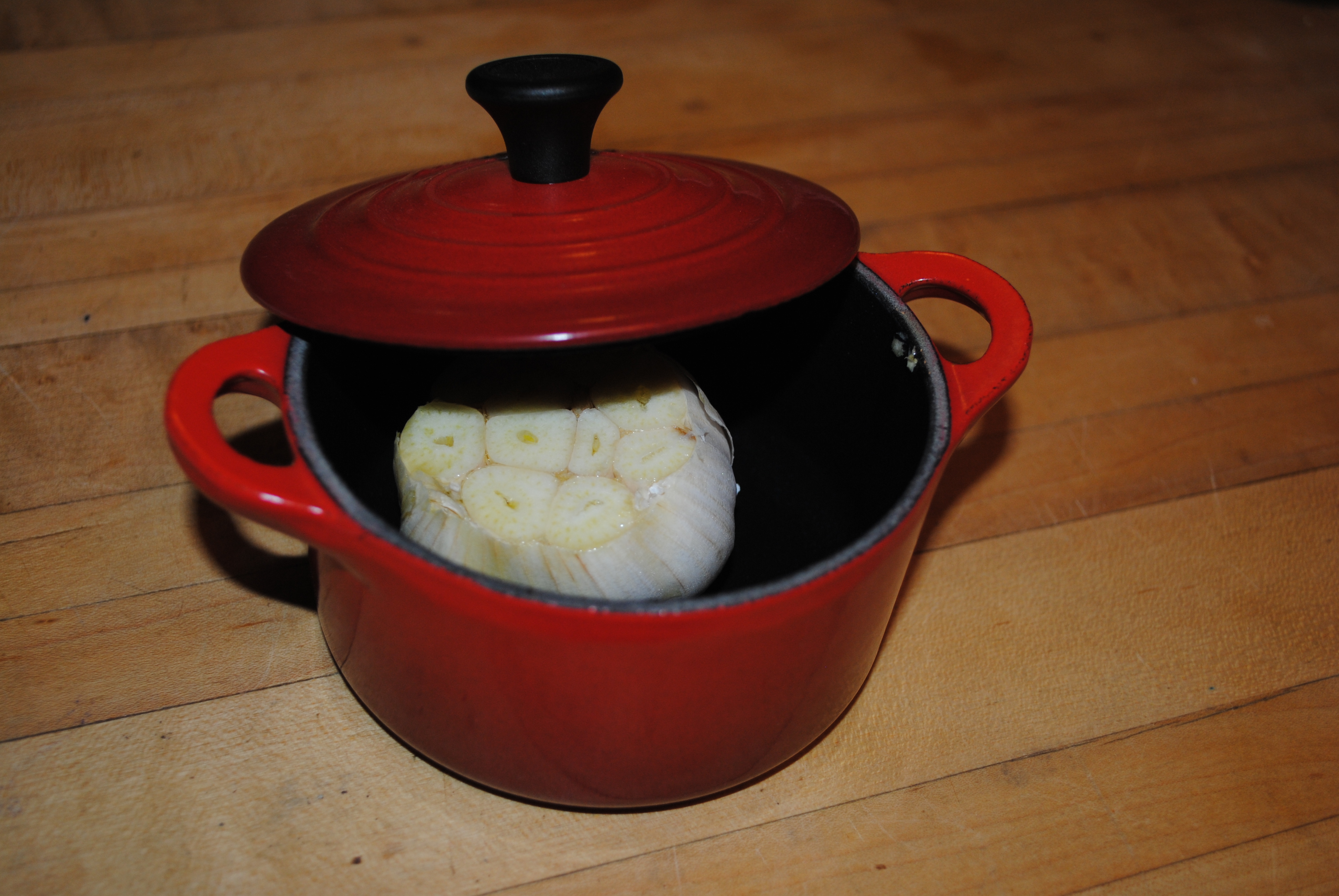 3. When your garlic is roasted and you are better informed about foreign policy, take the pot out of the oven and let it cool down. In the mean time, chop your parsley and combine with the lemon juice, pepper flakes, and a tablespoon or two of olive oil in a small bowl. When the garlic is cool enough to handle, pop the cloves out of the papery shell and mash them together with the parsley/lemon juice mixture.
4. Lay out a cutlet and brush one side lightly with olive oil. Spread one third of the parsley/garlic mixture over the cutlet. Grate some fresh pepper over that. Begin to role the cutlet up. If your cutlet is a rectangle (which it is), you want to roll from one of the short sides up to the other short side.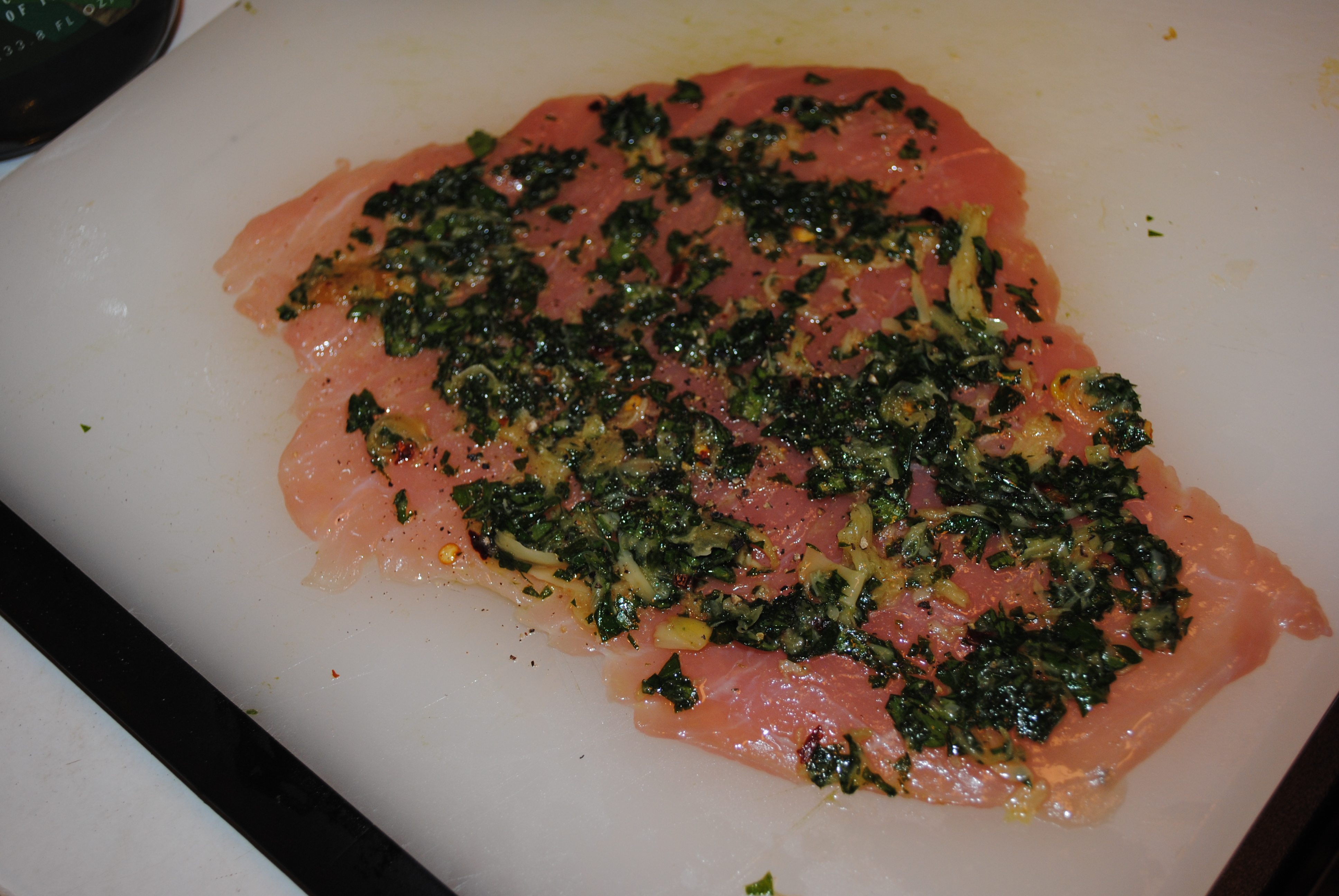 5. Take butcher's string and loop it vertically around the pork. Then loop the string around the roll-up horizontally. Start a new horizontal loop every inch and half. This is a wee bit difficult for me to explain here, but I think the picture does a decent job of demonstrating what I mean. Tie the string at the end securely.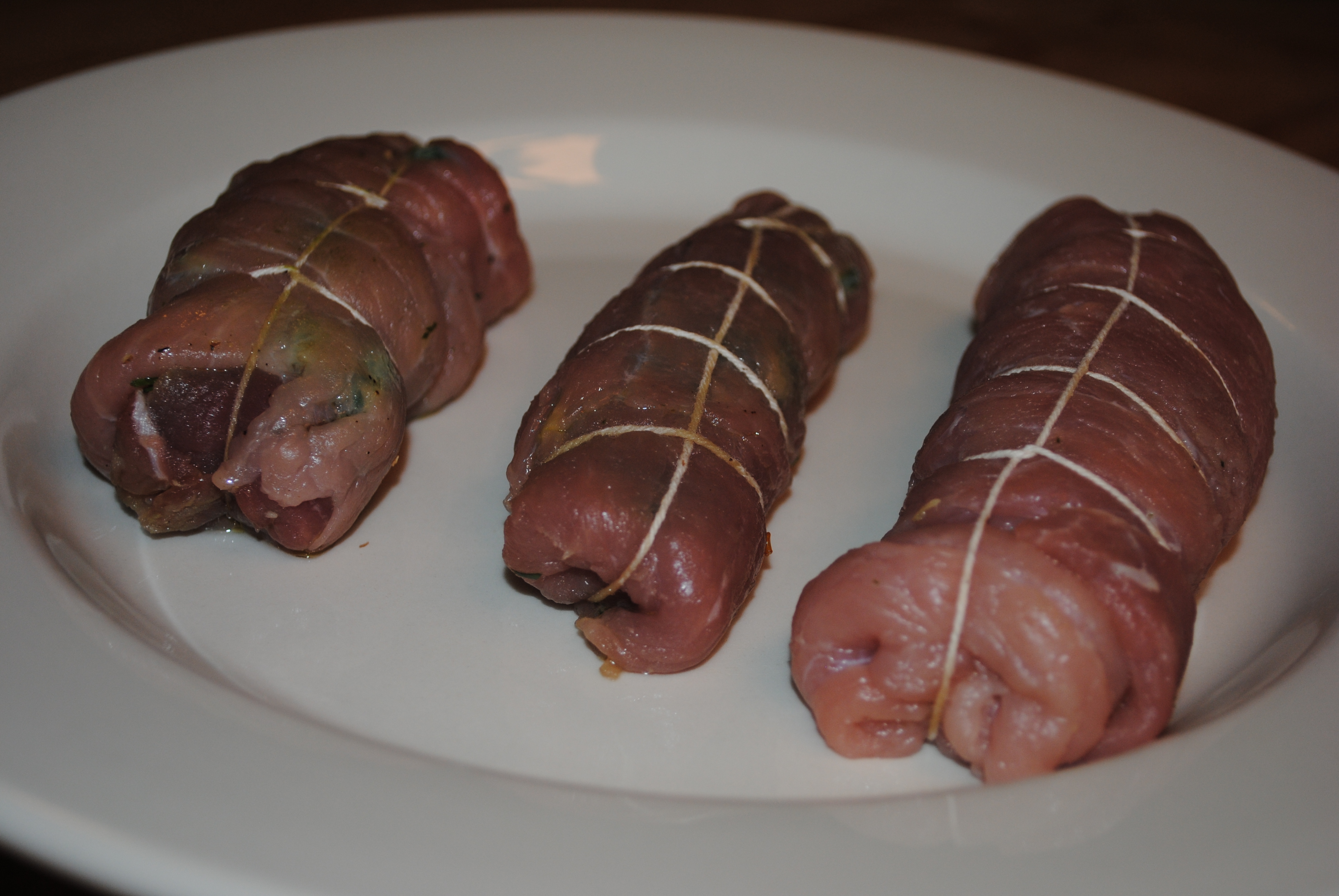 6. Repeat the roll-up process with the other two cutlets. Re-heat your oven to 350 degrees.
7. Heat two tablespoons of olive oil in a cast-iron skillet over medium high heat. Brown the rollups, about three minutes per side, until golden brown on all sides, and remove from heat.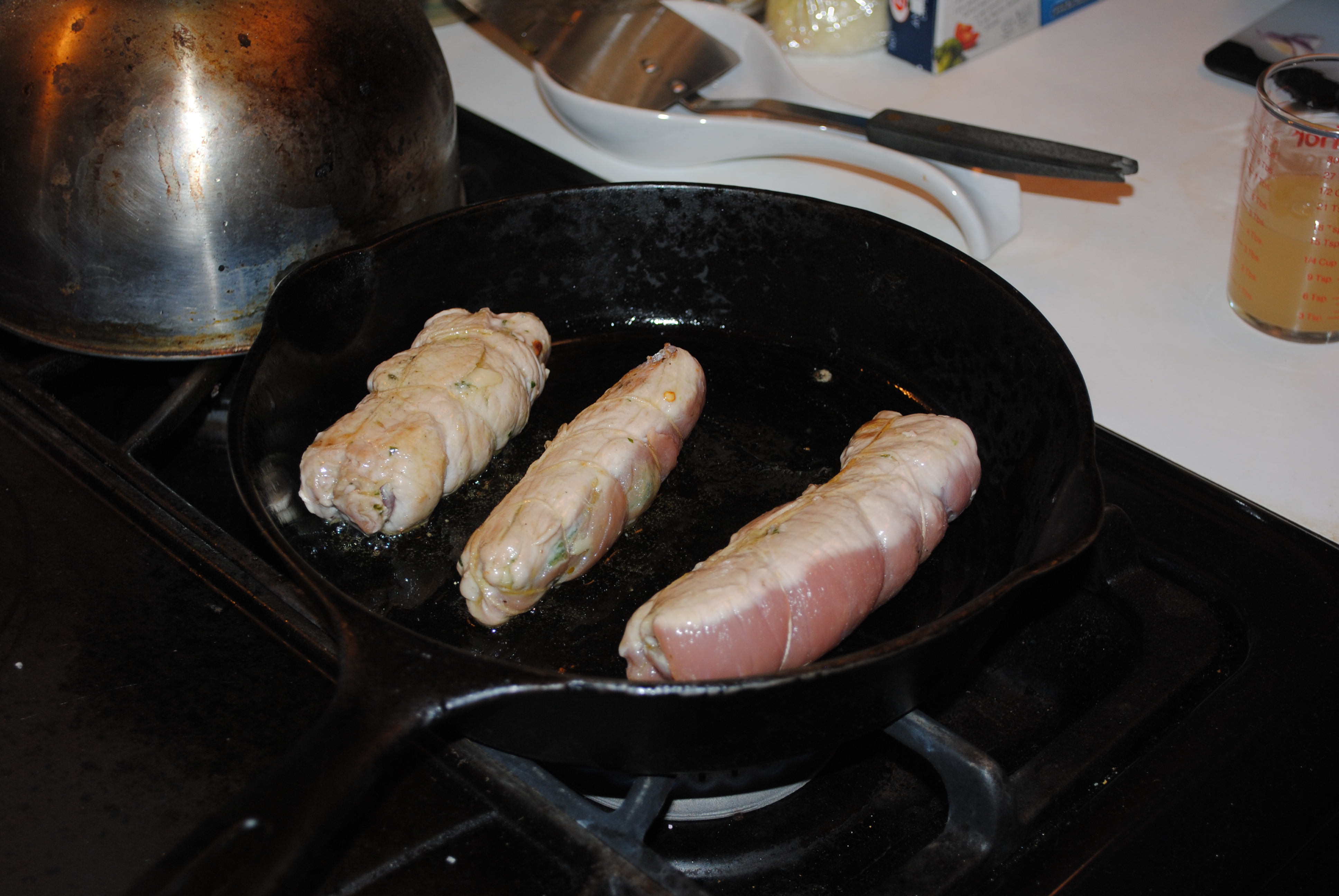 8. Pour the wine (or a mixture of wine and chicken broth) into the skillet, and place the skillet in the pre-heated oven. Set a timer for nine minutes.
9. Cook angel-hair according to package instructions.
10. Remove skillet from oven after the allotted time, and serve one cutlet and two ounces of pasta per person. Top the pasta with the wine/pork sauce that will be left in the pan. Make sure to take that butcher's string off the pork! Serve with an arugula and red onion salad.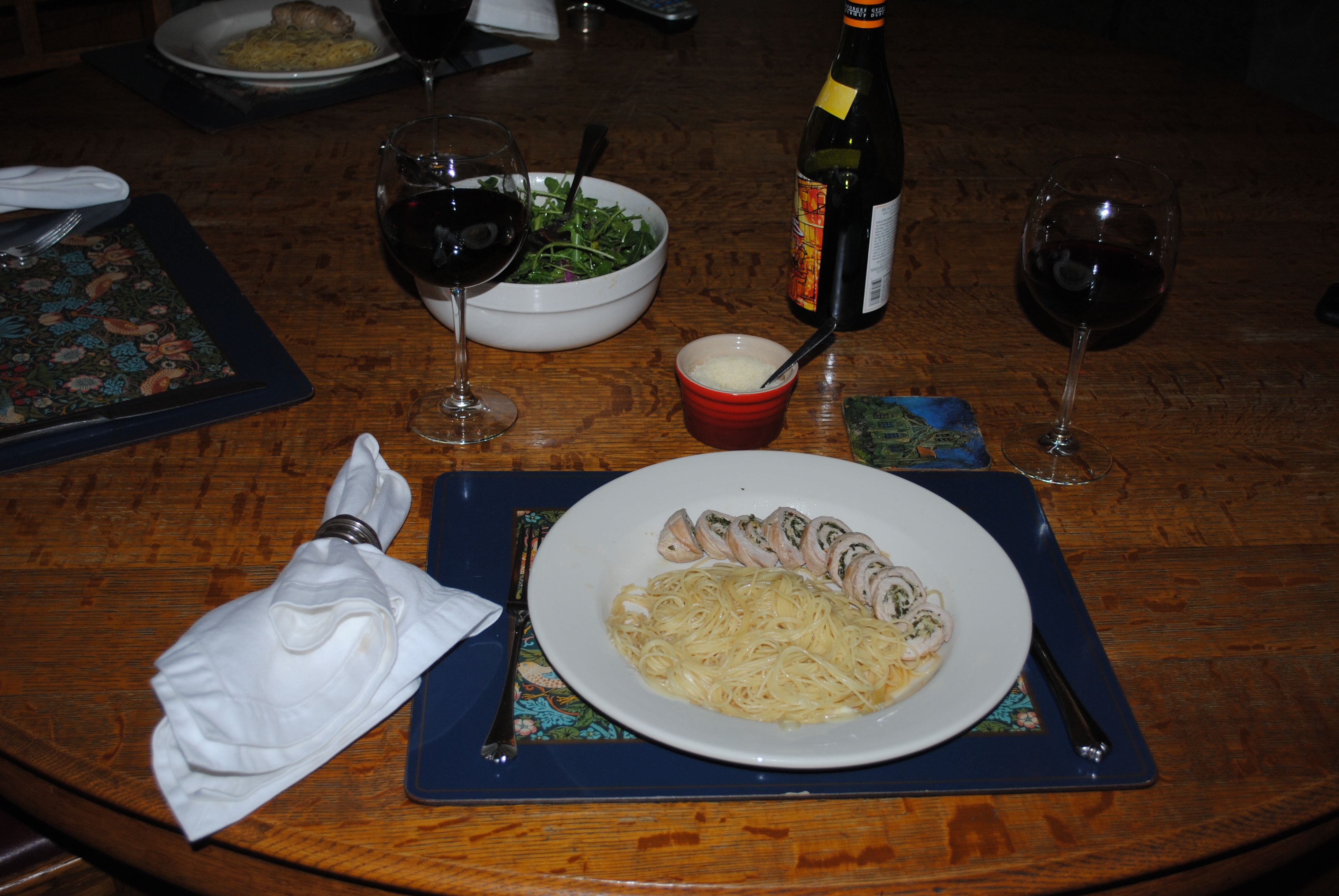 Carbs: 114 grams
Carbs per serving: 38 grams