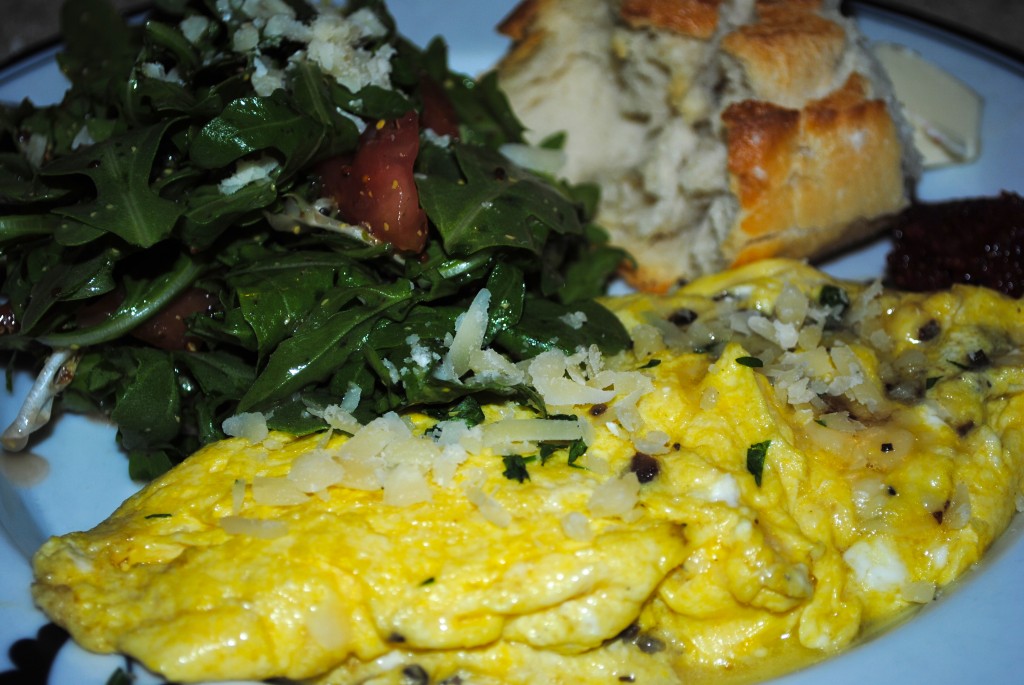 Like Jenny Rosenstrach, the author of the wonderful Dinner a Love Story blog and it's companion cookbook (which I devoured on Saturday while waiting in line at Politics & Prose to meet the equally fantastic mystery writer Tana French), I keep a dinner diary. Actually, a diary is a great idea. What I keep is a loose collection of papers, each of which lays out the menu for two weeks worth of meals.
Every week there are nights on the dinner schedule that just don't happen the way they're supposed to. A broken oven delays the creation of this lovely casserole. Obscenely ripe tomatoes prompt me to make Alice Waters' tomato sauce ahead of schedule. I forget to take meat out of the freezer before leaving for work. Again.
Nights like this give us three options. We can order in, go out, or make omelets. Since we prefer to save our nights out for the weekend, and because I still haven't found a good Chinese take-out near Courthouse, we eat a lot of omelets.
But, hey, who's complaining? There's absolutely nothing wrong with a good omelet. Growing up, we had omelets every few weeks. Along with "Spanish" Rice, they were my mom's go-to, quick and easy dinner for hectic weeknights of dance class, forgotten school notebooks and impending spelling tests. We ate thick omelets, filled with gooey cheese and fresh tomatoes, served along-side deliciously crispy frozen fries or tater-tots.
Dan makes his omelets differently, the same way he makes his stir-fry, throwing everything into one pan, letting the cubed Swiss cheese mix with diced turkey breast, sliced mushrooms and (always) crisp bell peppers. The resulting creations (more closely related to frittatas than the classic omelet) are intimidating, but always delicious.
Which is to say, there is no wrong way to make an omelet. There is, however, a right way. Julia Child's way. Mastering the Art of French Cooking, is rightly regarded as a masterpiece, but for my money The Way to Cook is her most helpful book for the novice or intermediate home cook. In it, Julia walks you through roasting a chicken, composing a salad, and, of course, making an omelet.
Julia's omelets are classically French. I (try to) use her technique, but I do tend to branch out a little in terms of filling. The following omelet, from a night we were supposed to have chili, uses shallots and mushrooms along with parmesan cheese. I'm sure it would be delicious with some diced bacon as well, but the whole point of omelet night is not to go to the store. Feel free to play around with fillings and toppings. Parsley is always marvelous. Elephant & Castle in New York does a lovely smoked salmon version. But hey, throw whatever you want in there. And don't worry too much about the technique. Worrying about dinner isn't allowed on omelet night!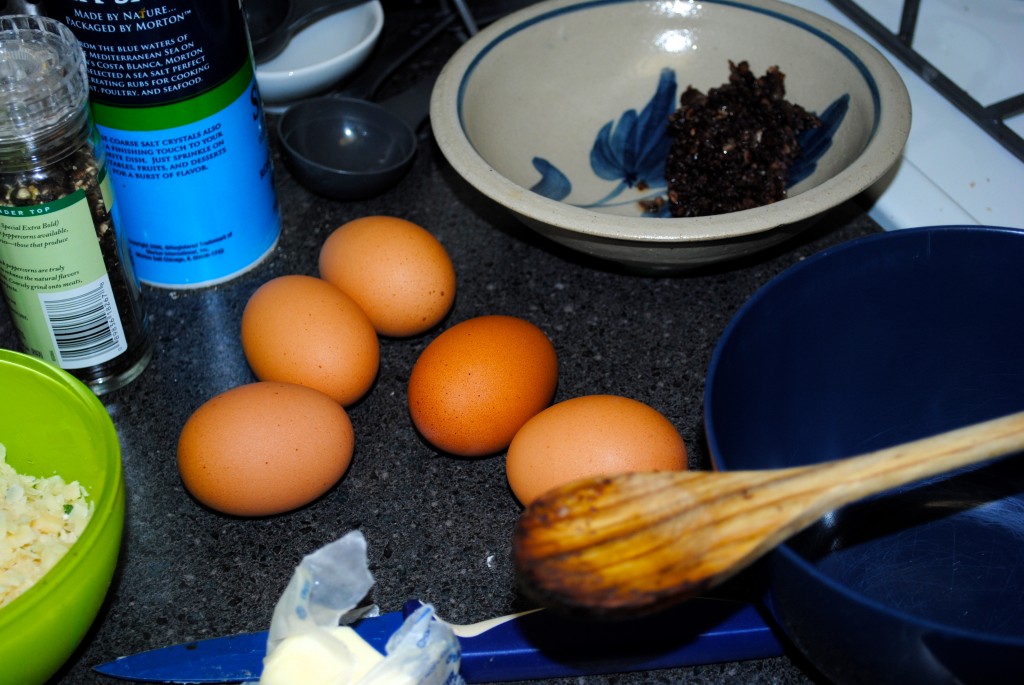 Ingredients – Serves 1

2-3 eggs
1 tablespoon water
2 mushrooms, finely diced
½ a shallot, finely diced
1 tablespoon butter, divided use
1 tablespoon red wine
¼ cu. grated Parmesan
Chopped fresh parsley, for garnish
1. Sautee the shallots in about ½ tablespoon butter over medium heat. When soft, go ahead and add the mushrooms. Sautee for another five minutes. Then add the red wine, and let it go for another 2 or 3 minutes, until the liquid has cooked off.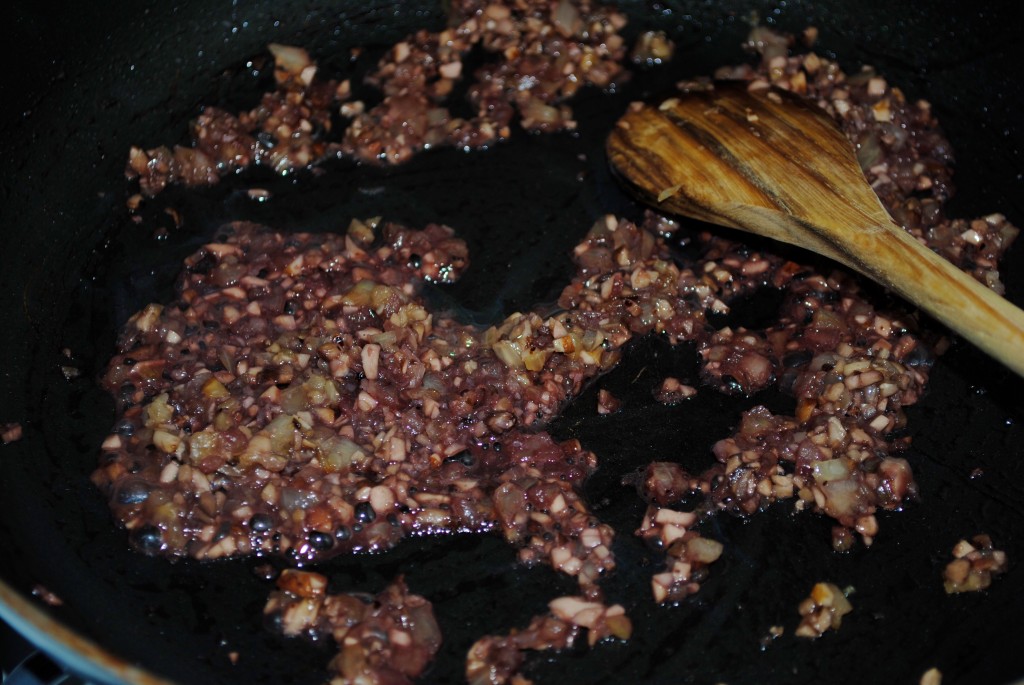 2. Break your eggs into a bowl, and add the tablespoon of water. Whisk together until the eggs are just a little frothy on top.


3. Heat the remaining butter in a small to medium non-stick pan over high heat. When the bubbles on the foam are just starting to subside, but before the butter starts to brown, dump in the egg mixture. Grabbing the pan by its handle, swirl it around so that the egg spreads evenly over the pan.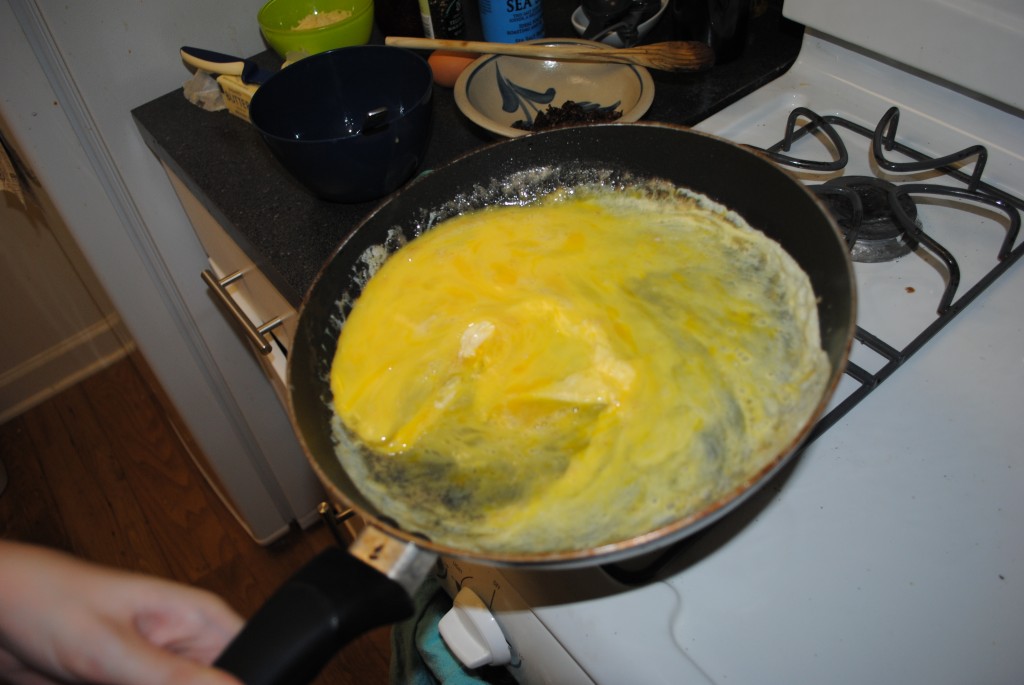 4. Let the pan sit on the burner for about 15 seconds. During this time, add the mushroom mixture along with the grated cheese to the upper third of the omelet, at the end of the pan directly opposite the handle.
5. Now jerk the pan towards you, getting the omelet to fold over itself. Keep jerking until the omelet has folded into a nice little omelet-shaped rectangle. This is tricky. Feel free to use a spatula to push errant bits of egg into the proper place. Julia recommends making ten or twelve omelets at one time, until you get the hang of it. It's probably not bad advice, but I've never done it.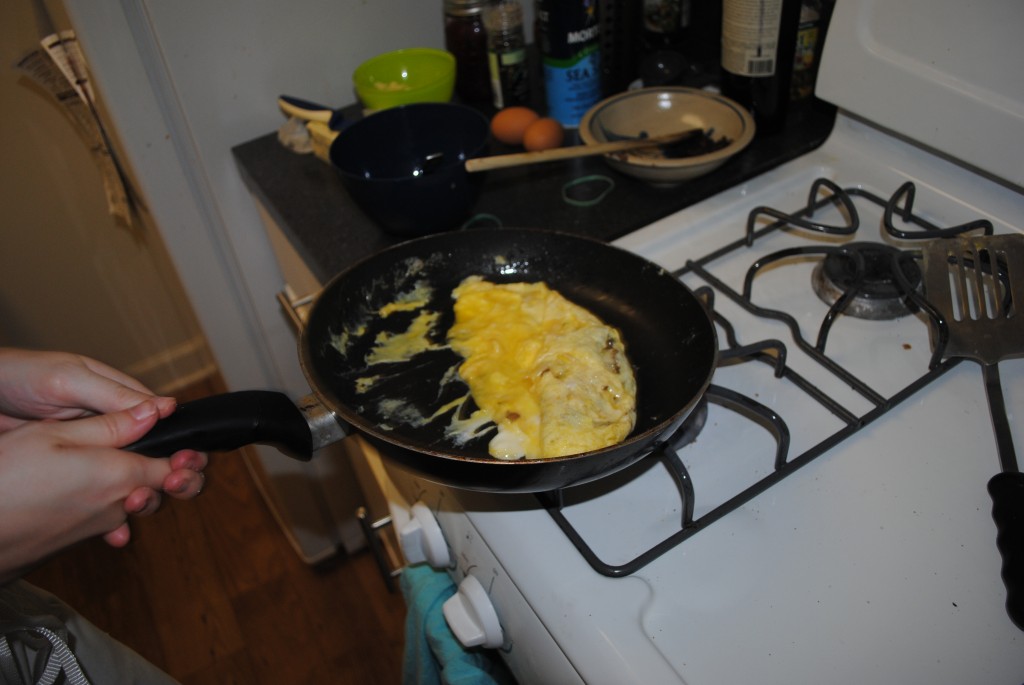 6. Plate the omelet and sprinkle some parsley on top. Serve with a side salad (I went with arugula and tomato) along with some bread and homemade jam.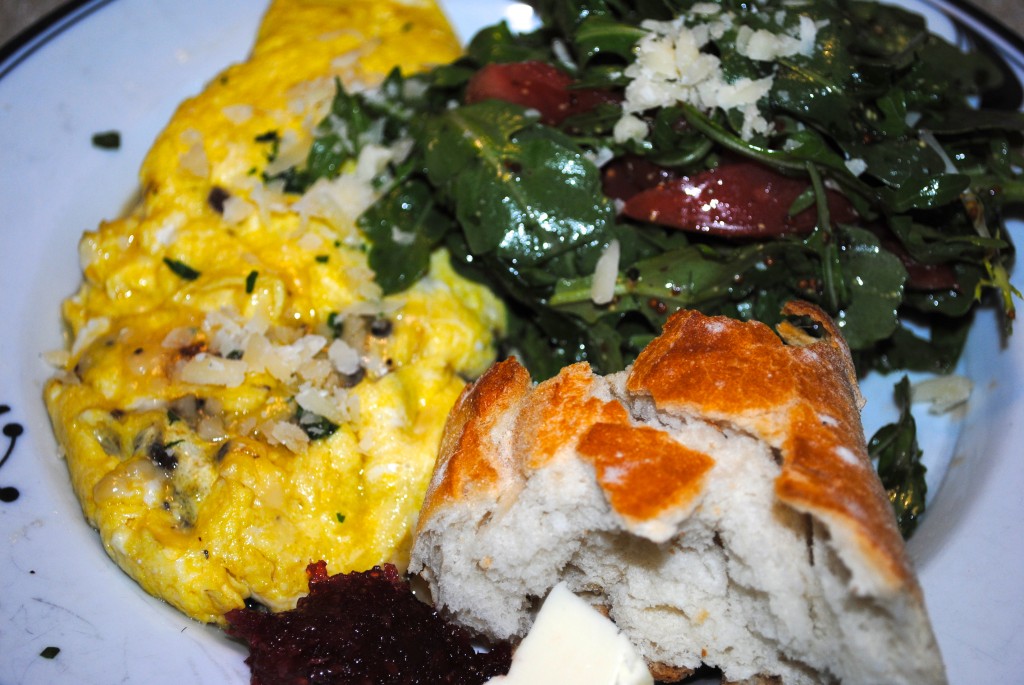 Carbs (without bread or jam): Negligible