Here's the thing about diabetes: it's pretty darn difficult to fool. Vegetarians can imitate texture with boca burgers and portobello mushrooms, dedicated celiac-sufferers can bake goods from rice flour and nuts, but for diabetics, there's no tricking the taste buds. With the exception of artificial sweeteners like Splenda, if it tastes sweet, it's going to raise your blood sugar.
When Dan was first diagnosed with diabetes, my thoughts immediately jumped to other forms of natural sweeteners. I considered baking with honey and sweetening iced tea with agave. No dice. The fact of the matter is that the body just doesn't care if you're getting your sweet fix from sugar, honey, agave, fruit juice, milk, or sweet potatoes. At the end of the day it all breaks down into sugar
The good news for diabetics is that, unlike for vegetarians or people with celiac, the food you need to avoid is not absolutely forbidden. Every day, and in every meal, you are allowed to indulge just a little bit. For Dan, one of his favorite indulgencies are beets. Dan is beet mad. One of the few true constants in this world is this: if there is a beet salad on a restaurant menu, Dan will order it. No matter the time, occasion, or preparation, Dan will dive into that salad like . . . well, a guy who really likes beets. Luckily, beets aren't nearly as high in sugar as some of his other indulgencies, so this is a very easy way to get that lil' bit of sweetness.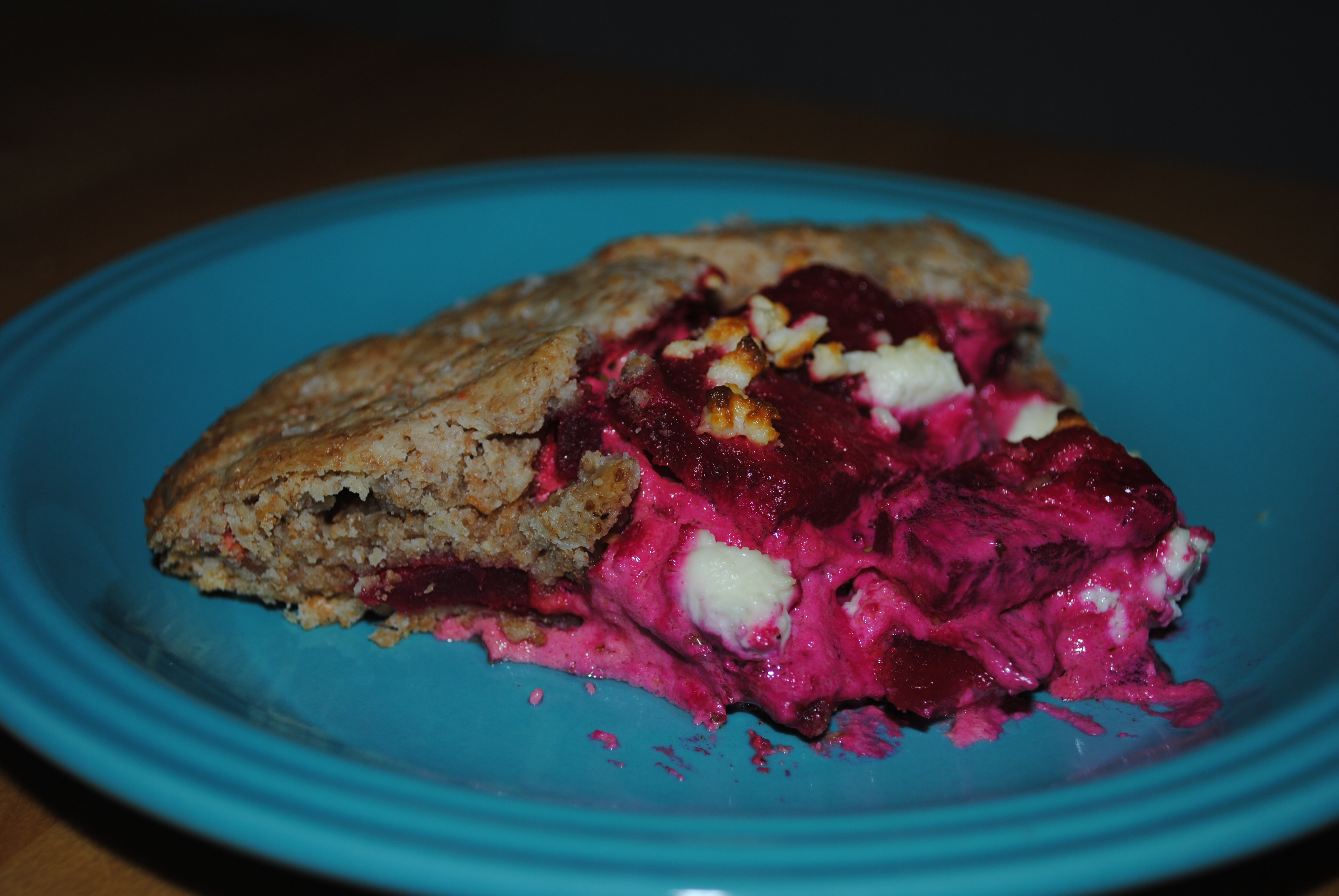 This galette is adopted from Deborah Madison's phenomenal Vegetarian Cooking for Everyone (a quick plug: I am far from a vegetarian—I don't even like vegetables all that much—and yet I consider this an absolutely essential cookbook. Please, do yourself a favor and buy it). Madison's recipe is for a leek-and-goat cheese galette, which is quite delicious, but does little to assuage Dan's insatiable sweet tooth (an inconvenient problem for a diabetic to have).  I adapted it, using whole wheat dough and beets instead of leeks. Still utterly delicious. Serve with a salad large enough to offset the guilt from the carb-laden dough.
Ingredients
4 beets– 20 carbs (this will vary depending on how big your beets are—when making the recipe, look at the galette and see if the amount of beet you're putting on it makes sense. Let's be reasonable here)
3/4 cup soft goat cheese (divided use)
1/2 cup cream
1/2 tablespoon dried rosemary
Sea salt
Galette dough
2 cups whole wheat pastry flour—184 carbs
1/2 teaspoon salt
1 tbs sugar—12 carbs
12 tbs cold, unsalted butter, cut into small pieces
1/2 cu ice water
(Optional: dried rosemary)
1. Preheat your oven to 400 degrees. Remove beet greens (you can throw them away if you want, but they can really be quite delicious, so go ahead and save them for tomorrow) and wrap beets in individual foil packets. The idea is to let them steam while they roast (now that sounds like a contradiction, doesn't it?), so make sure the packet is closed up enough not to let air escape. Place your cute little beet packages on a cookie sheet to catch any juices that might leak out, and put the whole thing in the oven. Leave it in there for an hour. It may take longer for your beets to cook depending on their size—when a knife slides easily into the flesh, they're done.
2. Meanwhile, prepare the galette dough. Mix flour, salt, rosemary (if using) and sugar in a large bowl. Next cut the butter into the mixture—either by hand or using a food processor (mine is too small to make dough in, but if yours is large enough feel free. Works like a charm). Make sure to work quickly and not overwork the dough. Your butter needs to stay cold. If you've ever made scones before, it's the same idea. Mix the butter in until it's in pea-sized pieces.
3. Add the ice water, tablespoon by tablespoon until your dough begins to look like dough instead of like flour. It's a delicate balance, but I generally err on the side of more water. You want that dough to be able to come together in a ball. (Again, you can do this in a food processor. Leave the processor processing as you add water—you'll be able to tell when it coalesces into dough).  Gather the dough together in a disk, and refrigerate for 15 minutes if your dough is feeling warm and the butter seems soft (or if you need more time for your beets to finish cooking).
4. As your beets heat up and your dough cools down, move on to the filling. Combine four ounces of goat cheese with half a cup heavy cream, 1/2 a teaspoon rosemary and a pinch of salt. Stir until the mixture looks like a very thick, heavy, velvety cream. Keep waiting on those beets.
5. When your beets are finally done, take them carefully out of the oven. Don't turn the oven off. Those foil packets are full of steam waiting to escape at this point, so be careful as you open them. Peel your cooked beets, discarding the peels. Slice the beets into thin slices and combine them with the cream/goat cheese mixture.
6. Roll out the galette dough into an irregular circle (mine usually end up looking more like a square than a circle) about an 1/8 of an inch thick.
7. Spread the beet and goat cheese mixture out in the center of the galette, leaving about a 2 inch border around the edges. Crumble some of the remaining goat cheese over the top of the beet mixture. Fold the edges up and over the beets, and brush the dough with one beaten egg plus 1 tablespoon water (don't use all of it—just enough to get the edges wet and give the dough a sort of sheen). Sprinkle some chunky sea salt on the dough to give it a pretty sheen and bake for 25-35 minutes or until the crust is browned.
Total Carbs: 216
Carbs per serving: 54