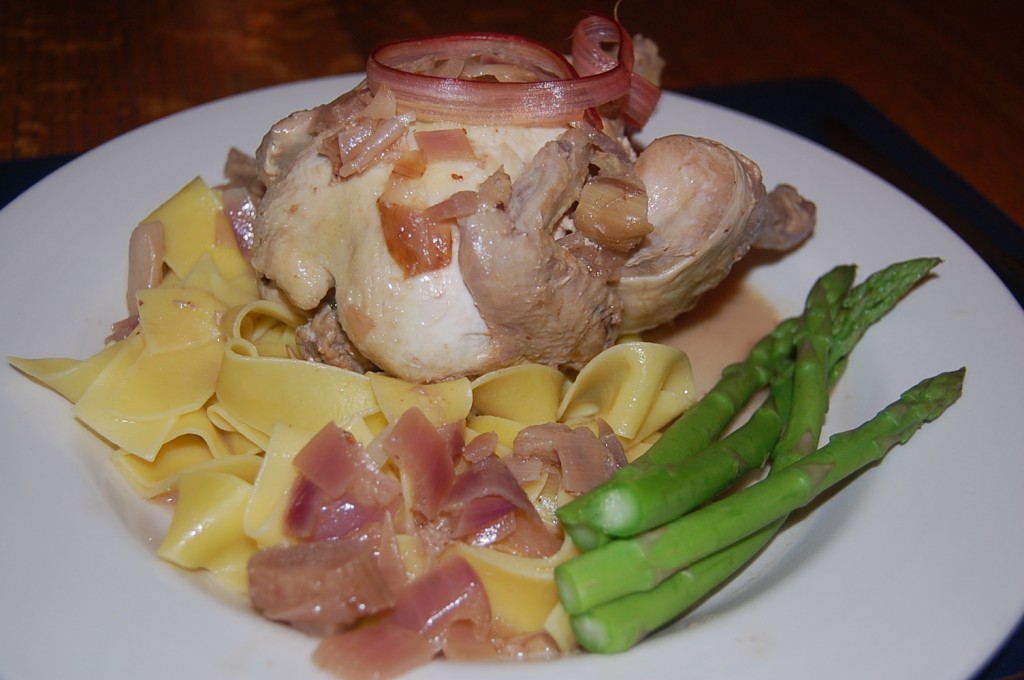 I've been putting off writing this blog post for far too long now. I've got excuses and excuses and excuses (a senior thesis to finish, graduation, moving, starting work), but today has been mostly perfect. I'm sitting in my new studio apartment as Dan sings along to Sugar Magnolia and makes Cornish Game Hens in the kitchen. What excuse could I possibly muster tonight?
This is the second time in as many weeks that I'll be having Cornish Game Hens. I have no idea whether or not this particular variety of poultry is actually any better in the springtime (which it will still be for eleven more days, officially). Joy seems to suggest not, informing me that Cornish Game Hens are just a recently developed breed of Very Small Chicken, rather than a young chicken. Kind of like a pony versus a foal. Still. Eating small fowl seems to be a very spring-like thing to do, and so I have been indulging.
I've a passion for springtime food. I'm mad for asparagus. Over the past month, we've had Potato and Asparagus Salad with Crème Fraiche and Poached Eggs; Asparagus Mimosa; Asparagus Frittata; Asparagus Risotto; and more boiled asparagus than I care to recall (as you can tell, I've also been on a bit of a Dash & Bella kick. If you haven't checked out Phyllis Grant's marvelous blog, do it now). If summer doesn't roll around soon, with its competing obsessions of heirloom tomatoes and summer squash, I think Dan will stage a revolt.
About ten years ago, my family spent the Easter holiday at my grandparents' lovely home in Connecticut. We went for hikes in the woods, hid stuffed animals all around the house in a very silly April Fool's day prank, and made a Spring Feast from Martha Stewart's Living magazine. I was only twelve at the time, and I can't remember the exact progression of the feast. Here's what I do remember: fresh wild mushroom sauce served over hot popovers, delicious salmon (maybe on the grill?) and one of my mom's famous galettes for dessert. I haven't been home for a weeklong Easter break in quite some time, and these days our visits to Connecticut are more summer-themed (Rick Bayless' margaritas, Nando's peri peri chicken, and Bay Village potato salad). So when I was home for a week after graduation, we decided to make another springtime feast.
Today I'm giving the recipe for our main course that night: Braised Cornish Game Hens with Rhubarb & Tagliatelle, and fresh asparagus. Look out later in the week for a springtime cocktail, the Rhubarb & Strawberry Crush. Make this soon, before the foggy heat of summer steals away the last of the rhubarb and asparagus.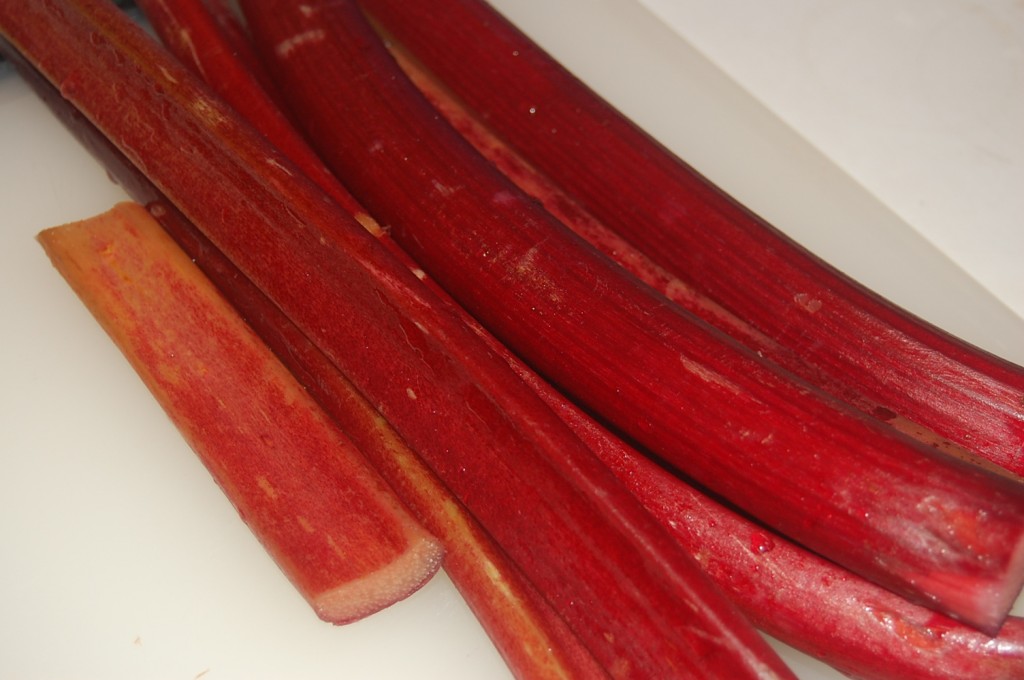 (In other news, it is criminal the prices that the otherwise perfect Fairway charges for their rhubarb. $7 a pound! Somebody needs to call 7 on Your Side!)
Braised Cornish Game Hens with Rhubarb & Tagliatelle

Inspiration for the Game Hens comes from La Cucina Italiana.
3/4 lb. Rhubarb stalks (this obviously depends on the size of the stalks, but it was about 5 stalks in my case)
Four 1-1.5 lb. Cornish Game Hens
Olive Oil
5 tbs. Butter (unsalted)
1 large red onion, chopped
1 cu dry white wine
1 Lb. Tagliatelle
1 lb asparagus, tough bottom ends broken off (if there are any)
1. Fill a large pot with cold water, and place on a back burner to come to room temperature. Salt the water generously.
2. Use a vege peeler to peel off four long strips of rhubarb to use as garnish. Cut the rest of the rhubarb into 1/2 inch chunks.
3. Season each of the hens inside and outside with salt and pepper. Heat 3 tbs of olive oil in a large skillet until hot (you will probably need to do this in batches, or use two skillets. Each hen needs room to brown, so you have to make sure you're not crowding them into your skillet. File under: lessons learned the hard way.). Brown the hens in the oil until golden all around, about five minutes per side. Remove from the pan, and place on a paper-towel lined plate.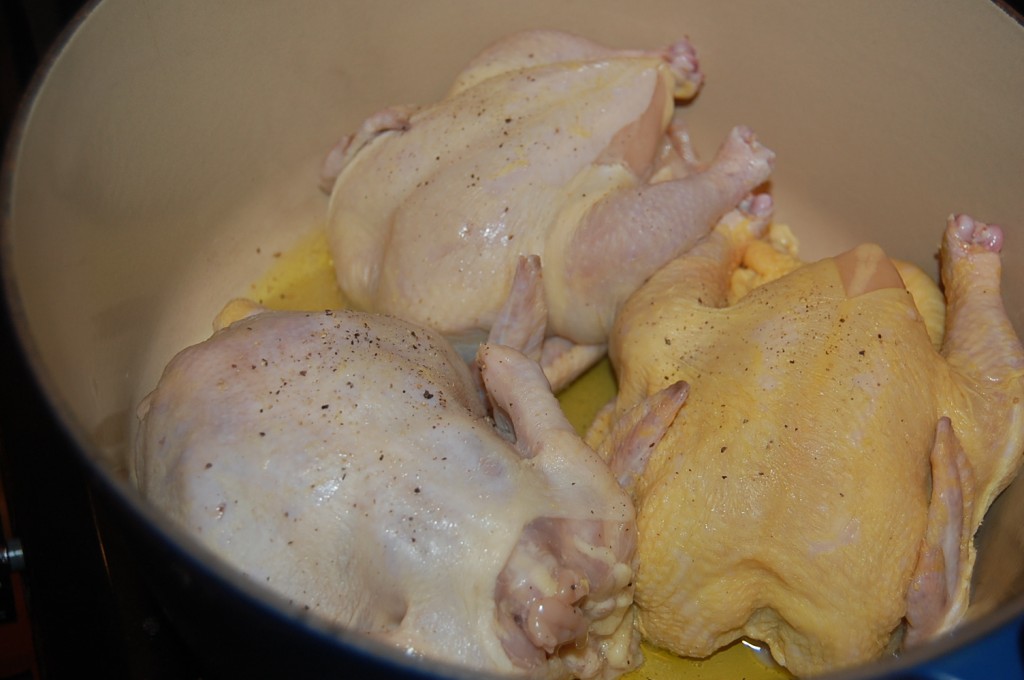 4. Melt the butter in a large Dutch oven over medium-low heat. Add the onions and cook for about ten minutes. In the meantime, dump out excess oil from your chicken-cooking pans, and then deglaze them. Pour 1/3 cup of the wine into the pan, and use a spatula to scrape up any goodness stuck to the pan.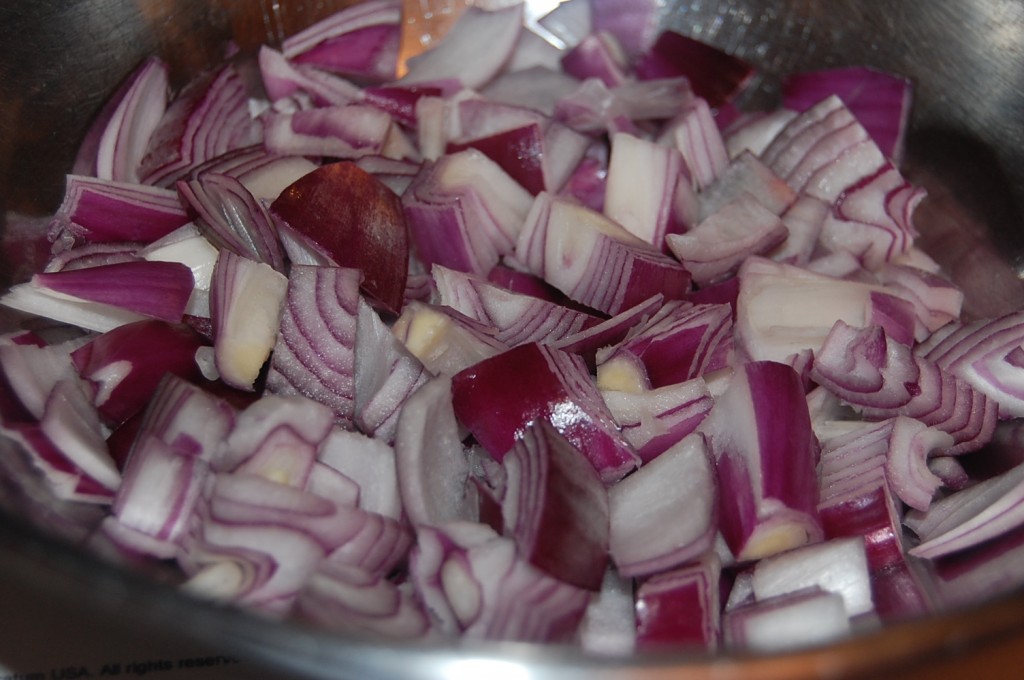 5. When the onions are done, add the wine from the deglazed pans along with the rest of the white wine and the 4 wee hens. Throw in some salt and pepper. Bring to a simmer over medium heat, then reduce heat to low and cook, covered, for twenty-five minutes. Check your little hens every once in a while, turning them when the feeling strikes you.
6. Add the chopped rhubarb to the Dutch oven, and move the birds around to let the rhubarb become assimilated into the dish. Cover again, and let cook for another fifteen to twenty-five minutes (cooking time depends on hen-size).
7. Bring your pot of water to a boil. Add tagliatelle, and cook according to package instructions.
8. In the meantime, bring a large pan of water to a boil. Add the asparagus, and reduce heat to a simmer. Simmer for 3 to 5 minutes, then drain and place on a platter. Drizzle with olive oil and freshly squeezed lemon, and season with salt and pepper.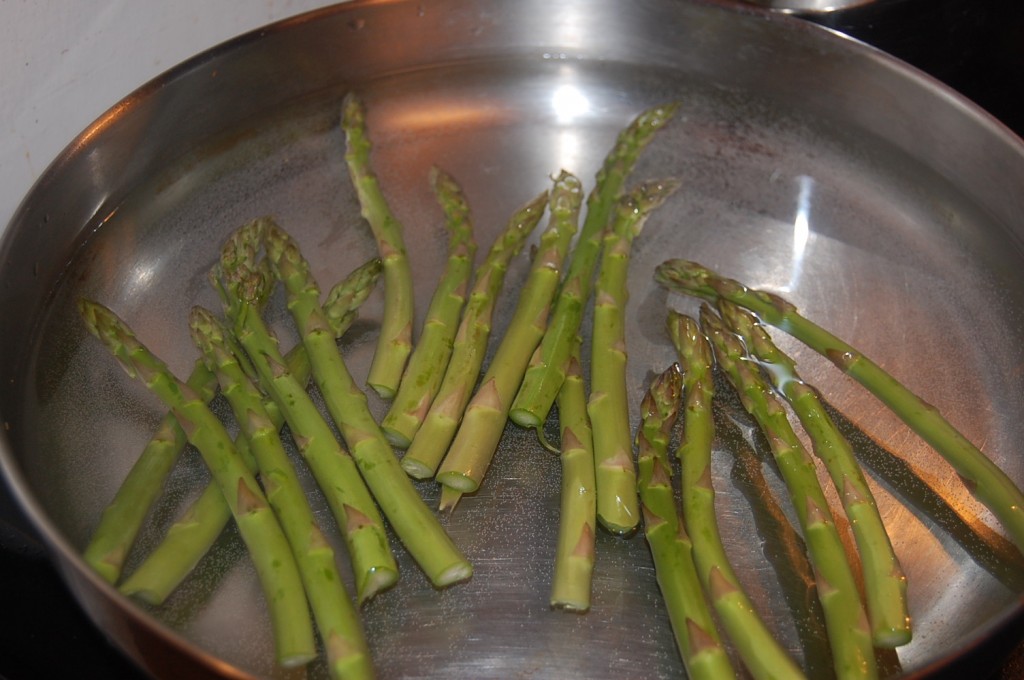 9. Serve each person a quarter of the tagliatelle. Place one Hen next to the pasta, and spoon the rhubarb sauce over all. Serve with asparagus and a delightful wine (I'm a sucker for a nice rosé, personally).