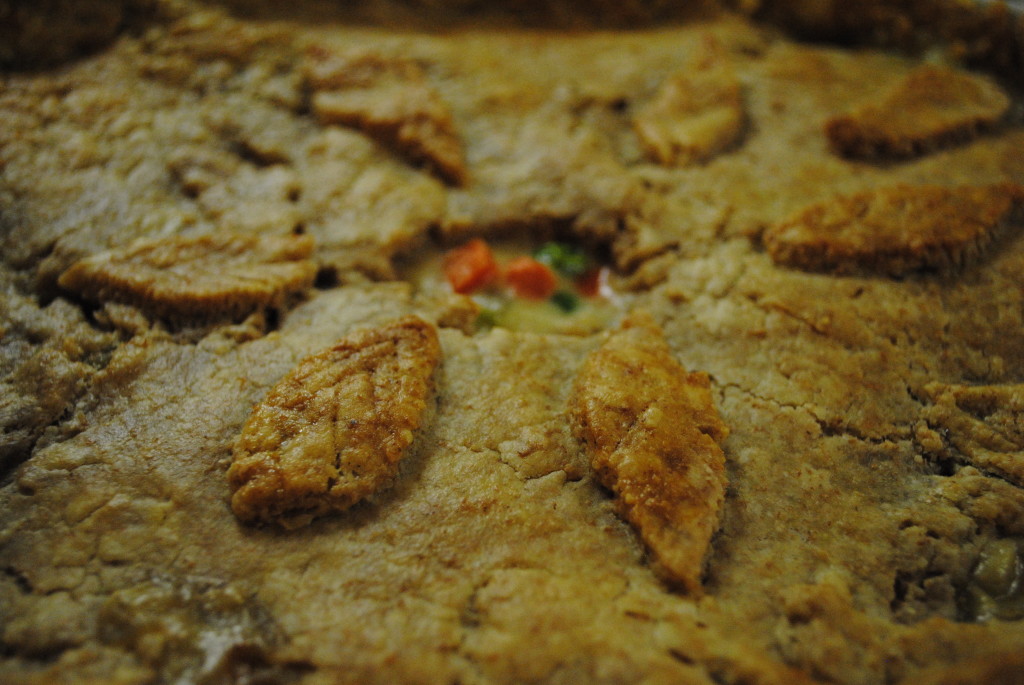 I am a neglectful correspondent. It's not a sweet flaw, like absentminded humming or an inclination towards messiness. Neglecting to respond to a longtime friend's pages-long email, delaying a thank you note until long after decency allows, even going six months without penning a blog post – all of these are forms of rudeness, my absolute least favorite character trait.
The problem with being a neglectful correspondent is that the guilt of not having written is not something that goes away. Long after the intended recipient has given up any hope of ever receiving a reply, my own unsent words still weigh heavily on my mind. With every day that passes, I become both more convinced that I must write something and more assured that I simply cannot. I'll spend time, at the gym or in the shower, composing just what I would say if I were to reply to that email, but once I've toweled off and sat myself in front of the keys, I find that I still can't manage an answer. It's been too long, I've already taken too much time, it's just too hard.
There are plenty of easy ways to make chicken pot pie. You can buy one from any decent freezer section of a local grocery store, and it might even taste good. You can start with premade pie dough and a rotisserie chicken. Heavens, you can abandon the endeavor altogether and make shepherds' pie instead. If you want to do it right, though, making chicken pot pie is not easy. Despite its reputation as cozy comfort food, chicken pot pie is complicated. Yes, it is very likely something our grandmothers could have made with ease, but that is only because our grandmothers would have thought nothing of spending several hours over a single dinner involving homemade piecrust, roux, and poached chicken breasts.
This recipe is not easy, but it is worth it. And, like correspondence, the steps get easier every time you do them. If ease and accessibility were all that ever mattered, we would all buy our pot pies and correspond only through brief Facebook messages. Sometimes, it's worth it to take the extra time to do a thing right.
Chicken Pot Pie
 Adapted from Julia Child's The Way To Cook, Pie dough adapted from Serious Eats & Deborah Madison's Vegetarian Cooking for Everyone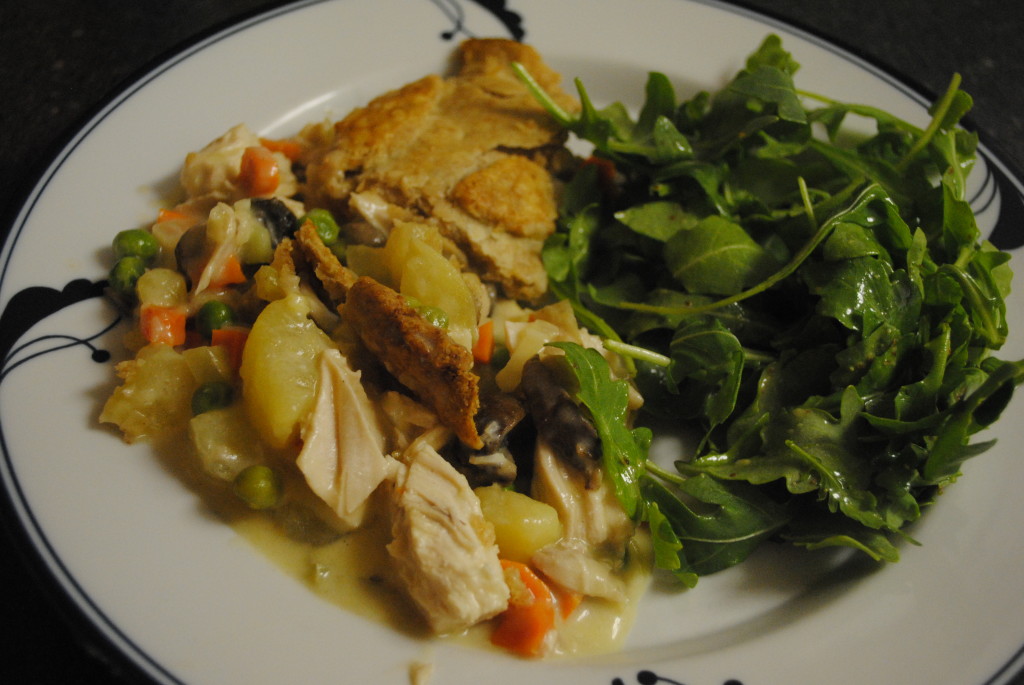 Ingredients – Serves 6-8
Pie Dough (Can be made ahead and refrigerated for several days, or frozen for several months)
1 ½ cu white flour
1 ½ cu whole wheat flour
1 teaspoon salt
2 sticks (0.5 lbs) of butter, cold
3-5 ounces ice water, as needed
Poached Chicken
2 medium carrots, peeled and cut into long, thin strips (this is called "julienning")
2 medium leeks, trimmed, washed & julienned
4 celery stalks, trimmed, washed & julienned
¼ tsp dried tarragon
1 bay leaf
1.5 cu. dry vermouth
1.5 cu. water
2-3 bone-in chicken breasts
White Wine Sauce
Poached chicken cooking liquid
4 tbs butter
5 tbs flour
½ cu heavy cream
Fresh lemon juice
Salt & pepper
Chicken Pot Pie
Prepared pie dough
Poached chicken breasts, cut off the bone and into bite-sized chunks
2 yukon gold potatoes, halved
2 tbs butter
2 large carrots, diced
2 celery stalks, diced
½ large onion, diced
6 small cremini mushrooms, quartered (or larger mushrooms, sliced)
¾ cu frozen peas
1 egg
1 tbs cream
1. Prepare your pie dough: whisk together the flours and salt. Add 2/3 of this mixer to a food processor. Give it a quick pulse. Cut the butter into small cubes and add them to the food processor. Pulse 25-30 times, until the dough begins to collect in small clumps. Use a spoon or a spatula to press the dough down, then sprinkle the remaining flour/salt mixture over it. Give it a few more short pulses, then transfer to a mixing bowl.
2. Sprinkle the dough with ice water, and stir and press the dough together until it comes together in a loose ball. It's best to do this with a spoon or rubber spatula, so that the butter doesn't melt, but I often give in to temptation and use my hands. Wrap the prepared dough in saran wrap and refrigerate for at least 1 hour. A note about this dough – I think the whole wheat flour gives the pot pie a very nice flavor, but it does make the dough a little more challenging to work with. Feel free to use all white flour if you're so inclined.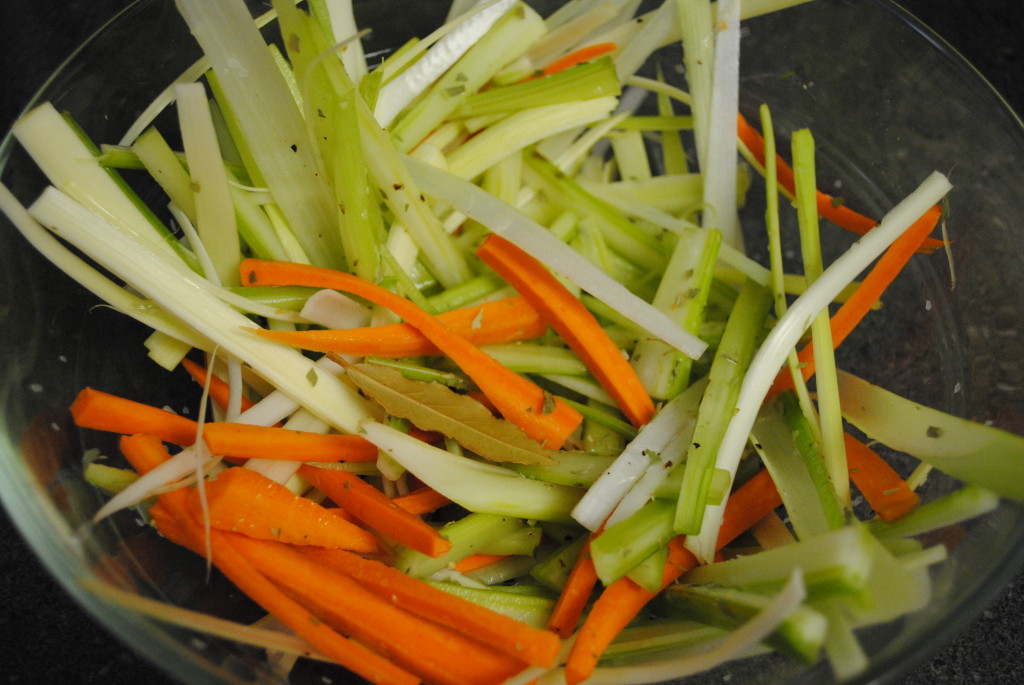 3. In the meantime, poach your chicken breasts. Toss together the julienned vegetables with the tarragon and bay leaf. Put a third of this vegetable mixture in the bottom of a Dutch oven.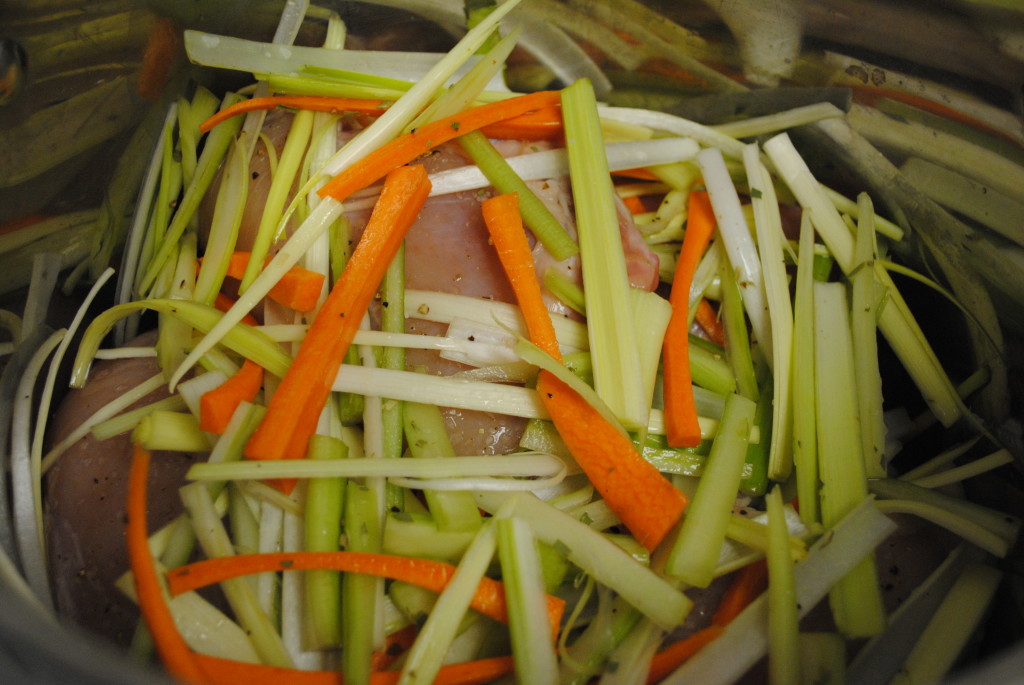 4. Season the chicken with salt and pepper, and add to the Dutch oven with the remaining vegetables, the vermouth, and enough water to barely cover the chicken. Bring this mixture to a simmer, and simmer for 25-30 minutes. Remove from the heat and let sit for ten minutes. Then, remove the chicken from the bone and cut into bite sized chunks. Strain the remaining liquid into a bowl and set aside, discarding the vegetables.
5. Boil the potatoes – place the potato halves in just enough cold water to cover them. Add half a teaspoon of salt, and bring to a boil uncovered. Reduce the heat to a simmer, and let simmer for 8-12 minutes. When a knife slides easily into the potatoes flesh, they are done. Remove from the heat, and rinse under cold water to stop them cooking. Chop the cooked potatoes into bite-sized pieces and set aside.
6. Place 1 tbs of butter in a large pan over medium-high heat. Once the butter has melted, add the onions, carrots, and celery. Cook, stirring often, until the onion turns translucent and the mixture smells fragrant and sweet. Remove from the heat and set aside. Wipe out the pan.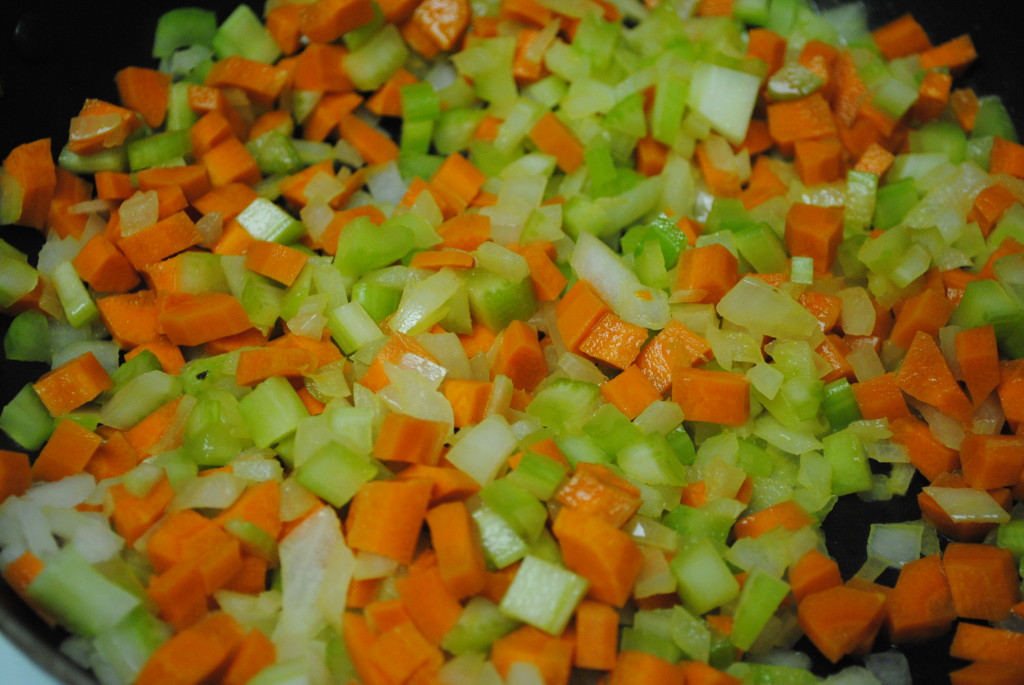 7. Add the second tablespoon of butter to the large pan, and let melt over high heat. Once the butter is hot, add the mushrooms. Sprinkle the mushrooms with half a teaspoon of salt and a few grinds of pepper. Reduce the heat to medium high. After 1 minute, stir the mushrooms. Cook, stirring often, for 3-5 minutes, until the mushrooms have browned nicely. Remove from the heat and set aside.
8. Remove your pie dough from the fridge, and let come to almost-room temperature. In the meantime, preheat your oven to 375.
9. Time to make the white wine sauce. This step can seem a little intimidating, but the resulting sauce is absolutely heavenly and worth any fuss and bother. Melt the butter in a saucepan. Sprinkle in the flour to the melted butter, and whisk together. Cook, stirring constantly, for 2 minutes, until the butter and flour have completely come together. The butter and flour should stay nearly white or light golden – don't let them brown.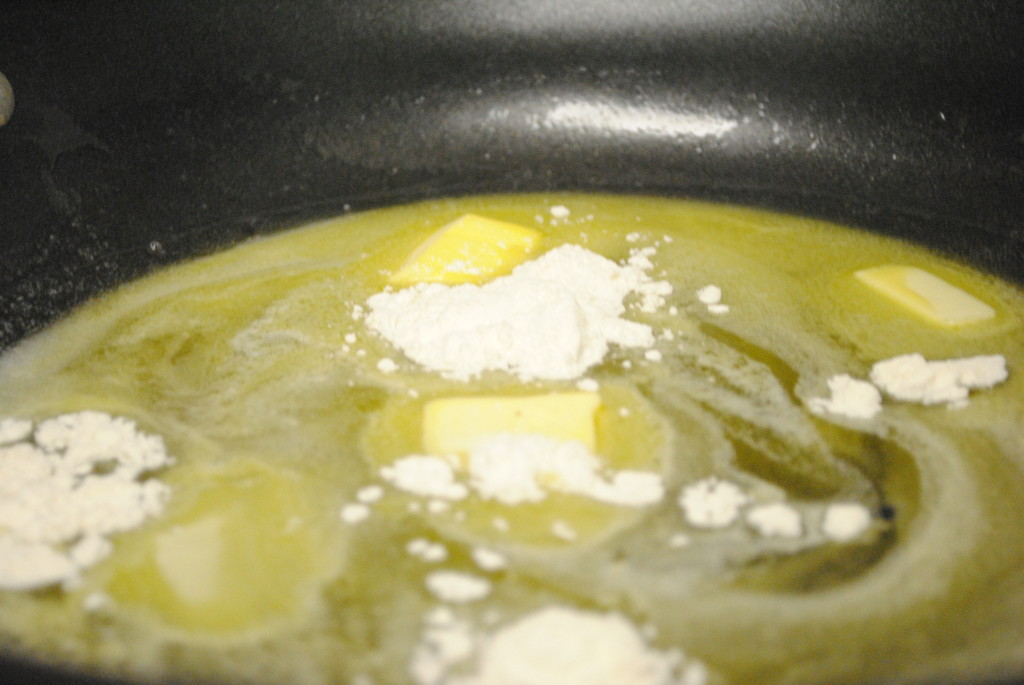 10. Remove the sauce from the heat, and whisk in the hot chicken poaching liquid. Return the mixture to medium heat. Add a sprinkling of salt and pepper, and let it simmer for 3 minutes. Then, add the cream in in little dribbles, stirring to combine. Squeeze in a few drops of lemon juice, then taste the mixture. Does it need more salt? More lemon juice? Add more of whatever you think it needs. Once you are happy with the way the mixture tastes, remove it from the heat and set aside.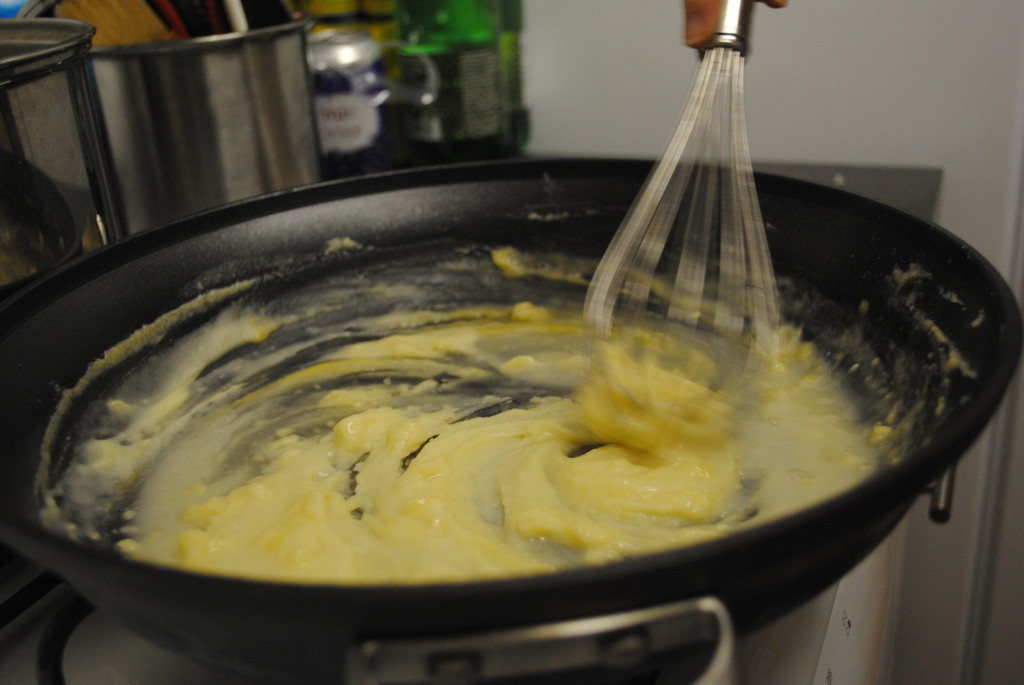 11. Mix together the poached chicken pieces, mushrooms, potatoes, carrot/onion/celery mixture, and peas in a large casserole dish. Pour the white wine sauce over the whole mixture, and stir to combine. The whole mixture should come just up to the edges of the casserole.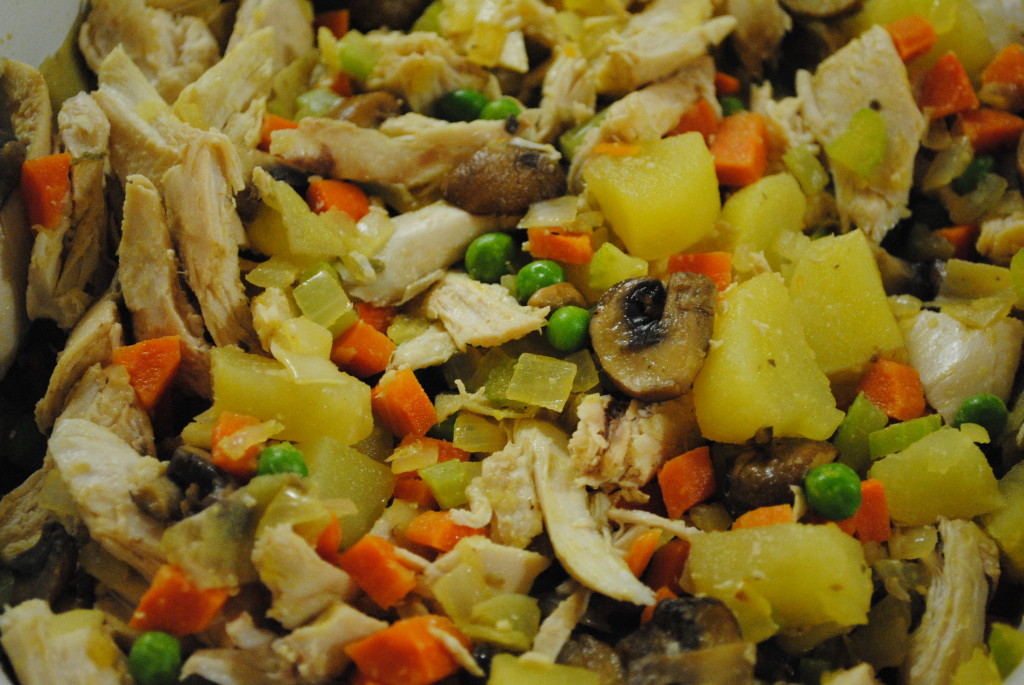 12. Roll out your pie dough until it is a little wider than the casserole dish and about a quarter inch thick. Cut a hole in the middle of the dough, then carefully transfer it so that it covers the casserole dish. It's ok if the dough falls apart a little here – as you can see from the pictures, mine clearly did. Just patch it together as best you can. It will still be delicious. The hole should be smack-dab in the middle of the dish.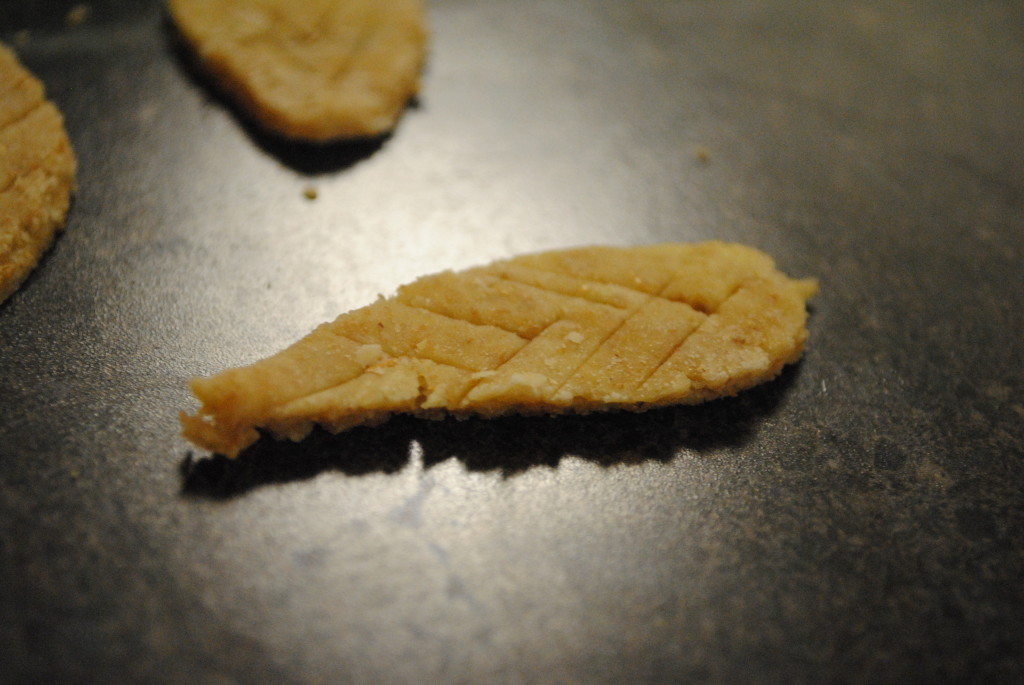 13. Pinch the dough down over the edges of the baking dish. If you want, and if you have extra dough, feel free to cut some pretty decorative cutouts from your dough: leaves, stars, hearts. Have at it! Brush the underside of the cutouts with water, and place them on the dough. Just before placing the pot pie in the oven, beat together the egg and tablespoon of cream. Using a pastry brush, brush the dough with the egg cream mixture. Place on a cookie sheet, and put in the oven. Let bake for 35-40 minutes, until the filling is bubbling up out of the hole.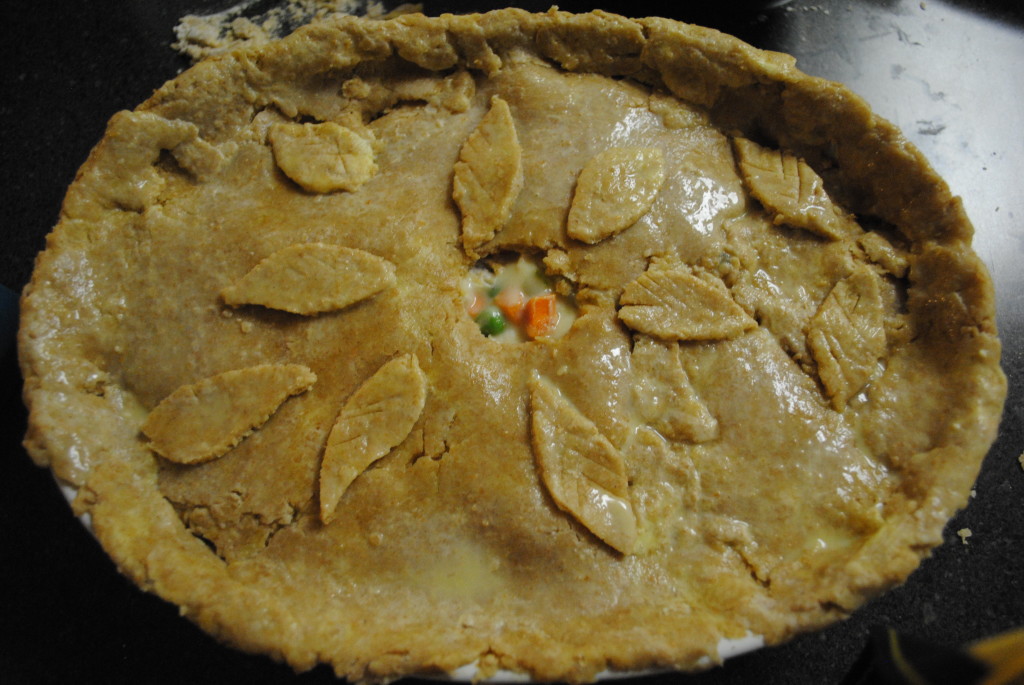 Serve with a lovely salad and a big glass of wine. You've earned it.